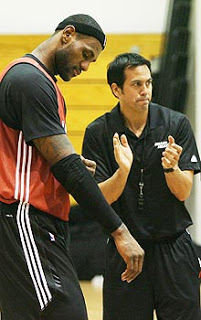 It is not often we do this, but sometimes a story is simply too good, and an auther needs to be given the credit and exposure they deserve.
Adrian Wojnarowski
is a well respected and reporter working with Yahoo Sports, and he has done some of the best work covering the NBA that we have seen in the past decade. However, even Wojnarowski out did himself with with recent offering about LeBron James and his systematic destruction of the Miami Heat. Please give this a read and enjoy.
Erik Spoelstra reached out to Mike Brown over the summer and searched for insight into both basketball's blessing and curse: Coaching the two-time MVP LeBron James(notes).
Over and over, Brown uprooted his offensive system to appease James only to have it never work. Brown praised James' character publicly when he would've preferred to have been truthful about James' narcissism. James defied Brown in public and private, disregarded his play calls to freelance his offense, and belittled him without consequence within the Cleveland Cavaliers.
Related Video LeBron leads rout LeBron leads rout
More NBA Videos More From Adrian WojnarowskiRiley should support coach, not replace him Nov 25, 2010 Kobe still tough, with assists from the greats Nov 23, 2010
Erik Spoelstra's efforts to hold LeBron James accountable have been met with resistance.
Meticulous in his preparation, Spoelstra spoke with several past coaches, and league sources said a clear and unequivocal picture appeared on how to proceed: End the cycle of enabling with James and hold him accountable.
And surprise, surprise: LeBron James has responded with a test of his own organizational strength, pushing to see how far the Heat will bend to his will. This season, James is hearing a word seldom uttered to him in Cleveland: "No." And it keeps coming out of the coach's mouth, keeps getting between the King and what he wants.
Can I stay overnight to party in New Orleans after a preseason game?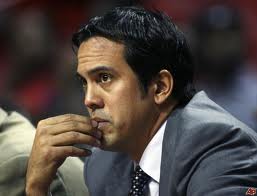 Can I play the clown in practice?
Can I get out of playing point guard?
No. No. No.
Wait, what?
No, LeBron.
No.
Even within a month of the season's sideways 9-8 start, the NBA witnessed a predictable play out of the James-Maverick Carter playbook on Monday morning. They planted a story and exposed themselves again as jokers of the highest order. They care so little about anyone but themselves. Still, no one's surprised that they'd stoop so low, so fast into this supposed historic 73-victory season and NBA Finals sweep of the Los Angeles Lakers. They want Spoelstra - and Pat Riley - to bend to them, to bow to the King the way everyone has before them.
Nevertheless, here's what was surprising - even troubling - when the Heat talked on Monday before a victory over the Washington Wizards: In the blink of an eye, Dwyane Wade(notes) signed up with Team LeBron to scapegoat and sell out Spoelstra.
"I'm not going to say he's 'my guy,' but he's my coach," Wade said.
Wade's always been loyal, and that's why it was so surprising to witness him bail this fast on Spoelstra, whom Wade knows too well. Spoelstra is a good NBA coach. Everyone knows that Wade isn't a star who plays hard all the time, knows that he takes plays off on defense. They know that Spoelstra did a terrific job coaching 90 victories out of that flawed Miami roster the previous two seasons.
As much as ever, the Heat need Wade to influence James. Only now, it's clear James is influencing Wade. With Udonis Haslem(notes) out for the regular season, the locker room misses one of its vital voices. Now, Wade is struggling on the floor and James is the devil on his shoulder, whispering that he doesn't need to be accountable, that there's an easy fall guy for everyone: Spoelstra.
Those who know Wade well, who care about him, were disappointed Monday. When Spoelstra needed Wade to stand up for him, Wade never shrunk so small. Spoelstra was Wade's guy, but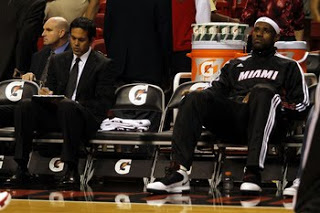 Wade's finding it much easier to align himself with James' coward act than do the right thing. This was something that you'd expect out of Chris Bosh(notes), who's never been a leader, never a winner, but Wade?
"He knows better than this," one of Wade's former assistant coaches said. "I'm not saying he hasn't changed some, but he knows right from wrong. And this is wrong."
The fundamental problem for Spoelstra isn't that James doesn't respect coaches - he doesn't respect people. Give LeBron this, though: He's learned to live one way with the television light on, and another with it off. He treats everyone like a servant, because that's what the system taught him as a teenage prodigy. To James, the coach isn't there to mold him into the team dynamic. He's there to serve him.
Wade was one of the Team USA players who'd watch incredulously as James would throw a bowl of fries back at a renowned chef and bark, "They're cold!" Or throw his sweaty practice jersey across the court and command a team administrator to go pick it up. Everyone wants James to grow out of it, but he's never showed much of an inclination for self-examination and improvement. And he's never surrounded himself with people who'd push him to do so.
What's more, the timing of this leak was no accident, because James and his business manager had to like the idea of someone else going on trial this week. When the public wanted to talk about James' return to Cleveland, about the callous way with which he left, about the disjointed start in Miami, they thrust everything onto Spoelstra.
Part of them believed they could deflect Hell Week at home in Ohio, and part of them probably believed they could indeed align the public with them against Spoelstra.
After all, the coach had it coming to him. Of this, LeBron James was sure. Spoelstra had the audacity to do something that Mike Brown never had ownership's backing to do in Cleveland: To push James, call him out, coach him.
The funniest part had to be how they leaked the idea that Erik Spoelstra was panicking now, behaving like he feared for his job. Truth be told, he's been behaving in the opposite way. Spoelstra isn't running from LeBron, but running at him.
Someone's scared here, but it isn't the coach.