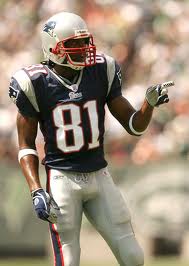 Less than 24 hours after suffering a loss to his former team, Randy Moss is cut by the Minnesota Vikings. While the move comes as a surprise to most, there was plenty of evidence that not was was happy in the land of 1,000 Lakes. Moss openly voiced his opinions in after Sunday's loss. He also went on to write a love song about the New England Patriots and how he missed playing for his former team. In the end, it all proved to be too much for Brad Childress, Ziggy Wolfe and the Minnesota Vikings.
"Coach Belichick gave me an opportunity to be a part of something special and that is something I really take to heart. I actually salute Coach Belichick and his team for the success that they have had before me, during me and after me," Moss said.
This was only a sample of the bizarre behavior Randy Moss showed Sunday when he opened his press conference by proclaiming he would not long answer questions from the press. The troubled receiver went on to state he would conduct his own interviews and would only answer his own questions.
"Well, I am going to go ahead and start this thing off. I am going to go ahead and say this - I said this a couple of weeks ago - but I got fined $25,000 for not talking to you all. Me, personally, I really don't care, but at the same time, I do answer questions throughout the week, and for the league to fine me $25,000 … I am not going to answer any more questions for the rest of this year," Moss said.
"If it is going to be an interview, I am going to conduct it. So, I will answer my own questions and ask myself the questions and give you the answers. So from here on out, I am not answering any more questions the rest of this season."
All of this leaves plenty of unanswered questions. First, where does Moss go from here? Will he rejoin the New England Patriots? What is to become of the Minnesota Vikings? Can Brad Childress reign this team in? Bret Favre has a broken ankle and a lacerated chin. Randy Moss went on record saying the coaching staff failed to listen to his advice about the New England Patriots. Obviously there is a major disconnect between the Vikings coaching staff and the players.