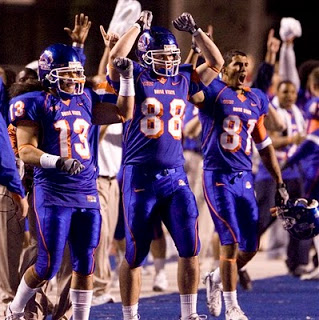 Another week has come to a conclusion in the college football season and what has become apparent is this is going to be one wild ride to the finish. Currently there are 10 undefeated teams in division one football. More than half of those teams come from BCS conferences and should they run the table they would have a legitimate argument for playing in the BCS Championship game. Add in TCU, Utah and Boise State and you have a group of Non-BCS teams that also have a rightful claim to the title. What this means for football fans is we have plenty to talk about from now through New Years.
1) Boise State Broncos:
We all knew it was a a possibility that Boise State could play in the national title game, now with the top ranking in the country, it looks like they are a lock.
2) Oregon Ducks:
It's true the Ducks may be the most talented team in the country. Think about the shootout the Ducks and the Broncos can have if they meet in the post season.
3) TCU Horned Frogs:
Horned Frog fans should not worry, judging by recent history TCU could find themselves in the top slot any week now.
4) Oklahoma Sooners:
The Sooners are at their best when they fly under the radar. Despite their top five ranking many have not seen Oklahoma play, and they fail to understand how talented this team really is.
5) Utah Utes:
It's going to be a great game when the Utes and the Horned Frogs get together.
6) Auburn Tigers:
Once again the Tigers found themselves in an ugly game. This time it was a shootout with Arkansas. 60 points is a ton of points to put.
7) LSU Tigers:
Is LSU really that good, or are they just lucky? Saturday's monster match up with Auburn will answer a lot of questions for us.
8) Alabama Crimson Tide:
Alabama could be the most recent of example of losing early and you can keep yourself in the BCS mix.
9) Michigan State Spartans:
Michigan State may have the easiest path to No.1 if they can navigate the Big 10.
10) Iowa Hawkeyes:
With Ohio State taking a fall, the Hawkeyes find themselves back in the Big 10 title hunt.
11) Arizona Wildcats:
It's tough to tell if the Wildcats are really that good.
12) Stanford Cardinals:
There's a long way to go before we crown a Pac 10 champion and the Cardinals can still factor into that race.
13) Wisconsin Badgers:
Great win knocking off the Buckeyes. Maybe this isn't your fathers Wisconsin team.
14) Ohio State Buckeyes:
It was a short lived time at the top. The Buckeyes still have to be considered the front runners in the Big 10.
15) Nebraska Cornhuskers:
Embarrassing loss against a scrappy Texas team on Saturday.
16) Florida State Seminoles:
They aren't a great team but they are good enough to win the ACC. I think that's still worth sometihng.
17) Arkansas Razorbacks:
Wild West shootout against Auburn. Once again Ryan Mallet falls short on the big stage. Looks like he is not who we thought he was.
18) South Carolina Gamecocks:
Leave it to Spurrier to be his own worse enemy. The Gamecocks had a great opportunity to tie the game and play in OT, however Spurrier wanted it all and called a pass play. The result was a pick.
19) West Virginia Mountaineers:
Big win on Thursday night. That is the high profile effort WVU needs if they want to turn any heads.
20) Missouri Tigers:
Undefeated, it looks like the Tigers may be legit. All questions will be answered Saturday when they take on Oklahoma.
21)Oklahoma State Cowboys:
Another Big 12 team amongst the ranks of the undefeated. Looks like the Cowboys are primed to trip up Bob Stoops and the Sooners yet again.
22)Mississippi State Rebels:
If you go into the Swamp and knock off the Gators even in the midst of a down year that is impressive.
23) Miami Hurricanes:
Could this be the year we finally get the Miami v. Florida State match up we've wanted since the ACC realigned
24) Texas Longhorns:
Maybe the Longhorns are not as bad as we originially thought. Anytime you go into Nebraska and shut down that high powered offense that's something to be proud of.
25) Virginia Tech Hokies:
The Hokies may be the hottest team in the country. After dropping their opening two games Virginia Tech has strung together an impressive list of victories.