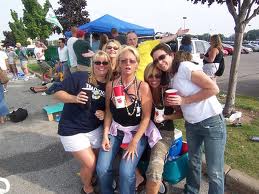 The second week of the college football season is already underway thanks to a great game last night between Auburn and Mississippi State. However, that was just an appetizer for what is to come this weekend. It's early in the season and plenty of programs are putting themselves to the test, and risking a potential run at a national title. This is why we love college football.

Florida State vs. Oklahoma -7.5: Neither of these teams looked sharp in their season openers against lesser opponents last week. Both will have to show improved play if they want to take the step into the big leagues.

Last weekend FSU quarterback Christian Ponder was efficient in his work, completing 12-14 passes for 146 yards and 4 touchdowns. Many accused the 'Noles of holding back some of their playbook last week against Samford, much like a NFL team would do in the preseason. Judging by the results that could have been the case, FSU dominated in all aspects of the game, but they never showed that swagger we expect from a FSU team. First year head coach Jimbo Fisher knows what his boys are up against this weekend, and he believes they are up to the challenge. Florida State is traveling across the country to play in Norman Oklahoma in a stadium where the Sooners hold a NCAA leading 31 -game home winning streak, a school record. Fisher also understand that many will look at the outcome of this game as a measuring stick to see just how far the Seminoles have come, or need to progress. The keys to success for Florida State lay with their defensive line and its ability to control the line of scrimmage, and Christian Ponders ability to keep control of the ball and move the ball down the field. This is also a big game for Ponder as he can toss his name into the ring of NCAA leading quarterbacks with a big win on the road. Florida State is no stranger to playing big games early in the season. Last year they took on Miami and BYU during the month of September. Traveling to Norman will prove to be a much more difficult task than going to Utah.

For Bob Stoops he will be looking across the field at his brother Mark who is the new defensive coordinator for Florida State. However, do not expect Bob to pull any punches to protect his 'bro. Bob Stoops knows this is a must win game for his Sooners. Look for Oklahoma to open up their playbook a bit this week and test the waters. Florida State has plenty to work on when it comes to defense. Yes Mark Stoops has added some spark to a unit that ranked in the bottom 15 in the NCAA last season, but Samford is one thing, Oklahoma is another. If Oklahoma's offensive line can control the line of scrimmage it will be a long day for the Seminoles. They will look to utilize their running game with draw plays and some quick screens, and then come back and find their tight ends that were nonexistent last weekend.

The spread is sitting at Oklahoma -7.5 which makes it a tricky line. Florida State has come up big in these games in the past, and they burnt me last season when they traveled to BYU and racked up a big win. In all honesty I'd generally advice staying away from this line unless you absolutely want the action. In that case, make it a moderate play at best.
Winner: Oklahoma wins the game, and covers the 7.5.

Miami v. Ohio State -8.5: The Ohio State Buckeyes are the best equipped team in the country, and they know it. They also know if they want to make the most of this loaded roster they must take full advantage of the precious few games they have against quality opponents. The first quality opponent comes to Columbus on Saturday and they are the Miami Hurricanes. When you're looking at Ohio State, all the focus has to be on one person, Terrelle Pryor. He is the leader of the Buckeyes offense and with his ability to pass as well as take off and run he is one of the best all around quarterbacks in the country. Ohio State experienced their best success last season when Jim Tressel took the reins off Pryor and let him play football. The Result was a coming of age party in the Rose Bowl. Now it's up to Tressel to fight his instincts and let Pryor make plays. Don't get me wrong, Pryor is a pass first quarterback, and he's good with that alone, but the added weapon of his speed and his legs makes him nearly unstoppable. Saturday's game will go as Pryor goes.

The Miami Hurricanes are fighting to regain their place in the national spotlight. A win over Ohio State would help them take huge steps in that direction. Jacory Harris is emerging as an elite quarterback, but he has struggled to make the big plays on the big stage. The lights will be bright in Columbus and if the Miami offense is to have success it will come from Harris. He must take care of the football. The Hurricanes run a balanced attack, but with the strength of Ohio State's defense, they will not be able to simply run the ball down their throat. At some point Jacory Harris will need to convert a third and long. The key to Miami's success will come from their defense. Ohio State struggles with teams that have great team speed, and Miami is full of that. The Hurricanes defensive line must use their speed to get up field and create pressure on Terrell Pryor. Close Pryor in and take away his space, that's the key to success when playing him. Terrell Pryor is a much improved passer, but he can still make mistakes. He kills you when he breaks the pocket and remembers that he can run.

This game has a hefty spread that favors Ohio State at -8.5. The Buckeyes are a good team, and Tressell is a good coach. He always has his boys ready for these big games. This is good for Ohio State fans bad for gamblers. Jim Tressell is notorious for sitting on leads in the second half and milking the clock, thus making an 8.5 point spread a dangerous line.
Winner Ohio State wins the game, but Miami covers the spread.

Penn State v. Alabama -12: This a game that has taken an interesting twists in the last 72 hours. Heisman Trophy winner Mark Ingram is likely out for Saturday due to a bad knee. Enter sophomore running back Trent Richardson. He may not be Mark Ingram but Richardson can play. He's a tough physical runner who requires more than one person to bring him down. You can expect a healthy dose of the 'Bama running game on Saturday because Nick Saban wants his team to inflict their will on Penn State.

Penn State is in a rebuilding year with a freshman quarterback making his second start and he is doing it in one of the toughest environments in the country. Penn State needs to control the clock and keep the ball away from Alabama if they want to win. On defense Penn State needs to play strong against the run. If they can bottle up Richardson and force Greg McElroy to throw the ball, they will have a chance to make plays on defense and take the crowd out of the game.
There's a massive 12 point spread on this game that favors Alabama. The key to this game is the first quarter, Penn State has to jump out early and take the crowd out of the game, and force McElroy to make plays. That may be the blueprint for Penn State if they want to win, but I doubt it will happen.

Winner Alabama wins the game and covers the 12

Michigan v. Notre Dame -4: It's an age old rivalry of two of the most storied programs in college football. Both teams have had immense amounts of success and they have both experienced epic downfalls as of late. 2010 appears to be the rebirth of both these storied programs.
Brian Kelly is calling the shots at Notre Dame, and he appears to have brought a spark of life to the program that has not been seen in years. Kelly's wide open attack has made the Domers a fun team to watch once again. They will also test many of the secondary's they play this year. The problem with bringing Brian Kelly in as the new head coach is, Kelly does not coach defense, and that was Notre Dame's biggest problem last year. Notre Dame has to find a way to defend Michigan's spread option.

The Michigan Wolverines appear to have finally found their quarterback, and it was just in time to save Rich Rodriguez. The savoir for the Wolverines offense comes in the form of quarterback Denard Robinson. The sophomore QB stepped in last week against UConn and ran for 197 yards and passed for 187. Yes, that's a lot of work for one player, but if Rich Rod wants his offense to be successful, that's what his quarterbacks have to do. With Robinson at the helm last weekend, the Michigan offense finally flowed the way it was meant to be.

The spread for this game favors Notre Dame by 4 points. Notre Dame looked solid last week against Purdue but their defense still struggled. In Denard Robinson, they face a duel threat like they have never seen before. This is going to be a high scoring game with two teams that want to move the ball down the field. The key will be which team has the most efficient possessions.