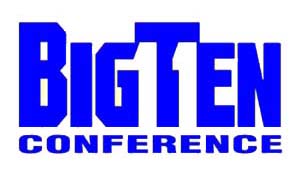 Continuing our look around the NCAA football landscape, we are back for part two of our Big 10 preview. Once again we have Oh No Romo, and the
Gridiron Goddess
hanging around and giving us the heads up on what's happening in Big 10 country.
Oh No Romo returns with part 2 of our Big Ten preview.
Purdue Boilermakers

The Boilermakers started a new era under a man named Hope. Unfortunately, a 5-7 record doesn't always bring unicorns and ice cream cones to West Lafayette.
If there is a silver lining for the Boilermakers it's that five of those seven losses were by seven points or less. This includes a two-point loss to the eventual Pac-10 champs, Oregon. And they did score key wins over Ohio State, Michigan and Illinois.
Miami transfer Robert Marve will be at the starting helm for Purdue. There's no doubt that pressure will be on him. Because we all have to realize that Curtis Painter is not walking through that door (which is probably a good thing).
Illinois Fighting Illini

Okay so we're probably still living in the glory days of our Rose Bowl season of several years ago. But I see a lot of potential. Aww, who am I kidding! We're due for a four-win season this year. Which raises the question of why Ron Zook is still on the sidelines in Champaigne?
For the record, I don't know. I do know that all eyes will be on Nathan Scheelhaase. The redshirt freshmen will be starting at quarterback for the Illini this year. He's got the speed obviously, but does he have the arm. If he doesn't, Eddie McGee is waiting on the sidelines. I'm still undecided on whether that is good or not.
The Illini open the season against Missouri. If they lose to their "arch-rival" again, then it will not be a pretty season for me to watch Illini football.
Minnesota Golden Gophers

So who likes the idea of Minnesota football being played outdoors? Me, me! Football should be played outdoors in Minnesota (take the hint Minnesota Vikings). The Gophers biggest win at home last season was against Michigan State. But they fell short against Illinois and Wisconsin.
Could this be the year that it all comes together for Minnesota? It all depends on quarterback Adam Weber. The senior had a down year, last season, passing for 2500 yards with 13 touchdowns and 15 interceptions. Weber attributes that to having shoulder surgery after his sophomore season.
Weber told the Star Tribune that he had lost some confidence during his junior season. Don't worry though because Weber has said that he's better this year and even took part in Manning Camp. This camp included Washington's Jake Locker, Houston's Case Keenum and Ohio State's Terrelle Pryor. There's no word on if they gathered around a camp fire, ate s'mores and told scary benching stories. My guess is Peyton Manning told the Curtis Painter story.
(Gridiron Goddess: USC @ MN September 18th. You're going DOWN Golden Gophers!)
Northwestern Wildcats

I mentioned Illinois as being one of my favorites. Well Northwestern has always been a favorite of mine. I pick them over the Illini for football. That said, it was great to see Northwestern get to their first January Bowl Game since 1996, when they lost to a certain somebody's USC team.
Despite losing to Auburn in the Outback Bowl, the Wildcats look great and are ready to make themselves a threat in the Big Ten. They've already been marketing themselves as "Chicago's Big Ten Team."
Pat Fitzgerald has done an excellent job as head coach of Northwestern. He's done a lot for this program in a short period of time. I hope Fitzgerald stays for a long time and brings this program to heights that have never been reached before.
Indiana Hoosiers

What do you say about an Indiana team that only won one Big Ten game last season? They beat Illinois, by the way. I'm trying to figure out what to say.
If this was 2008, I could talk about how Indiana had made it to their first bowl game in almost 15 years and how things might be on the up and up despite the death of Terry Hoeppner before the 2007 season.
Unfortunately, that wasn't the case. They did however lose three close conference games, in which they had the lead going into the fourth quarter. They lost to Northwestern on a last second field goal and to Michigan with a Tate Forcier touchdown late.
The third loss was to the Iowa Hawkeyes, who they had a 10-point lead over going into the fourth quarter. Maybe things can go their way this season and the Hoosiers can win those close games.
For the eyes, they will be focused on senior quarterback Ben Chappell, who is on the Unitas Golden Arm watchlist. Hopefully Indiana can get out of this rut that they're stuck in, but who knows at this point and time.
Now you are probably wondering why Nebraska isn't included in this. They aren't in the conference yet. So you will just have to wait for the Big 12 preview.