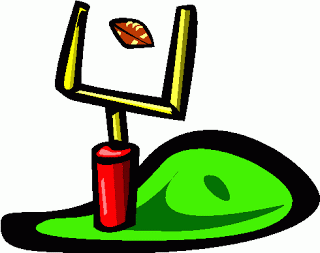 With the news of Brett Favre retiring, and Albert Haynesworth failing fitness test in Washington DC, it's officially the NFL season is upon us, and with the new season means a new year of fantasy football. As many of you know when it comes to fantasy football we leave the talking to the experts. This year Walker Sports is happy to invite in a special guest blogger to give some honest opinions of a first time fantasy footballer. Please welcome back to Walker Sports Jenny Poole, from
Found By a Friend
who has plenty of advice for first time and and grizzled veterans alike.

Let's be honest - when I joined my first fantasy football league in 2009, I didn't think I had a snowball's chance in hell of reaching the playoffs. I had been thrown into the mix with sports bloggers, aficionados, sports talk radio listeners - even an employee of the NFL.
But by the end of the season, there, in the top five entering the playoffs, was my team's name. In my very first fantasy football season, no less!
Some folks might drink the haterade and call my experience beginners luck, and others might suggest that I received outside help to get my inaugural season on the right track. All I know is this: heading into my second season of fantasy football, I am officially on my own. But this time, I'm prepared to do a couple of things differently to get on top.
1.

I will have a firm grasp on my league's scoring rules. It was obvious enough that the league was head-to-head, but PPR? Say what? Must read and pay attention to the rules. (Especially since my league was not points-per-reception, as I found out too little too late).
2.

I will create my own draft order. So... now you know the truth. My brother helped me with my draft order my first year in the league. But this year, I'm going to read the blogs, put together a color-coded spreadsheet by position, listed by round. For a small fee, I might be willing to organize your draft order, too.
3.

I will avoid picking all of my important players from the same team. Especially if that team is da Bears: Forte seriously under-performed, Cutler was a bust. TGIF: Thank goodness I had Flacco.
4.

I will find a cool team name. Some people have funny names, some people have names that only their frat brothers would find amusing, and some people have names that make it clear that they are someone's older parent. I will strike a balance between all three.
5.

I will keep an eye on the waiver wire. I will keep an eye on free agents. I will understand that when a marquee player gets hurt, someone has to step-in and fill their shoes and this person may be... on the waiver wire. Oh, and I certainly am not going to tell you who I'm interested in picking up. Not even you, boyfriend.
6.

I will talk shmack, and find something smart-ass to say to anyone who tries to offer me a lame trade. I may be a woman in a man's world, but I wasn't born yesterday. I can easily Google the player you are offering me, and see what his standings are in the blogosphere if I don't already know it myself. Nice try, kid.
7.

I will watch my team's injuries and bye-weeks, and plan accordingly.
8. I will keep my fan loyalties in-check, but allow myself a guilty-pleasure pick if it aligns with my overall draft rankings. I chose the Redskins defense last year, and have my eyes set on a couple of former 'Hoos... and I have a bit of a soft spot in my heart for those Bawlmer Ravens. But if they don't align with my draft order, I will not indulge!
9.

I will try to negotiate a trade... just because it's my second season. Might as well.
10.

I will understand the importance of my QB. Last year, I neglected my QB picks a bit because, well, that's the advice I was given. I soon realized that if I'd picked up at least one higher-points-scoring QB, I could very well have ended up in the top slot. For my team, it meant the difference between goodness, and greatness.
11.

I will remember to set my line-up on Wednesday. At a certain point, the NFL starts playing those tricky Thursday night games, then BAM! Someone inevitably forgets to secure their line-up for the upcoming games. That someone wasn't me last year, but I'm sure I'll forget if I don't write it down now.
Finally, I will initiate my first fantasy football wager: I bet Walker Sports that if I end up doing better than him in our fantasy league, I get to replace his "Daily Erin Andrews" with one "Daily Dhani Jones" post, devoted to NFL hotties.
Let the games begin.