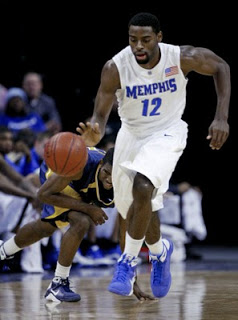 Tyreke Evans came from virtually out of nowhere this past year and claimed the NBA's Rookie of the Year title. The first year point guard was the one lone highlight on the Sacramento Kings, and now he is continuing the trend into the summer. However, now days Evans is making the headlines for all the wrong reasons.
Evans was cited and released by the California Highway Patrol on Monday.
The air unit spotted the NBA's Rookie of the Year driving a 2010 black Mercedes S550 at more than 100 mph on Interstate 80. The CHP says officers will review air patrol video to see if more charges will be filed.
Police officers drew their guns and ordered the Kings guard and his passenger out of the car because the officers couldn't see inside past its tinted windows.
CHP spokeswoman Lizz Dutton says Evans was cooperative and wasn't driving impaired. He's due in court in August.
I guess the one high point in this story is at least Evans wasn't driving drunk, and there are no reports of drugs being involved. However, the lack of a controlled substance makes me ask the question what the hell was Tyreke Evans doing then? Seriously 100 mph?!? Believe me this author is no stranger to speeding tickets, but never have I been clocked anywhere near the triple digit mark. It surely sounds the the young point guard can stand to sit through a few driver safety classes.

On a side note, at least Evans doesn't have any interest in motorcycles. Think about that.