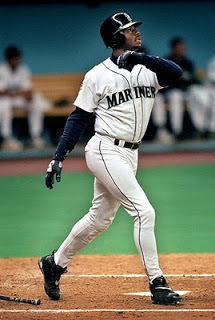 The Seattle Mariners announced earlier today that Ken Griffey Jr. is set to retire. This move should come as no shock to anyone who saw Griffey play this season. Age has finally caught up with "The Kid" and he was in the midst of one his worst seasons of his career. Griffey was hitting only .184 this season and recently went a week without playing.
Wakamatsu made the announcement before Wednesday night's game against Minnesota. Griffey's retirement is effective immediately.
The 40-year-old Griffey was one of baseball's greatest players before injuries began to take their toll. The perennial All-Star outfielder ranks fifth on the career home run list with 630.
The outfielder made the following statement concerning his retirement.

"While I feel I am still able to make a contribution on the field and nobody in the Mariners front office has asked me to retire, I told the Mariners when I met with them prior to the 2009 season and was invited back that I will never allow myself to become a distraction,"
Griffey would continue to say;
"I feel that without enough occasional starts to be sharper coming off the bench, my continued presence as a player would be an unfair distraction to my teammates and their success as a team is what the ultimate goal should be,"
Griffey is a sure fire MLB Hall of Famer. He ranks fifth on the all time home run list with 630 homers. In addition Griffey is a former MVP and Golden Glove winner.
In the end, Ken Griffey Jr. retires with a .284 career average, and 1,836 RBI's. He totaled 22 seasons in the big leagues, playing for the Cincinnati Reds, Chicago White Sox and two stints with the Seattle Mariners.
More details to come.