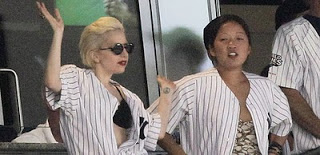 I can honestly say the above headline is something I never thought I would write, but alas never say never. Lady GaGa is not our typical topic of conversation here at Walker Sports, for that matter the New York Yankees rarely are, but when the two come together, then it's blogging magic.
Lady Gaga has been making the rounds for the New York City sports scene. A few weeks ago she was booed at a Mets game, and proceed to give the finger to the crowd in attendance. This was after Gaga asked to move from her seats behind home plate, and upgraded to Jerry Senfeild's luxury box.
Now we may know the reason Gaga did not want to sit behind the Mets home plate. Apparently Lady Gaga is a life long New York Yankees fan. In an effort to support her favorite team, Gaga ventured out to Friday night's game against between the Yankees and Mets. Unfortunately for Gaga and other Yankee fans the Yanks failed to pick up the win.
However, when Lady Gaga is involved the story is never that simple. After the lost, Gaga decided to use her celebrity status to venture into Yankees clubhouse after the game. Once there it is reported Lady Gaga was seen hanging around in a bikini bottom with her Yankees jersey half way buttoned and she was sipping on whiskey as she spoke with A-Rod and a few of the other players.
It turns out this did not sit well with the Yankees ownership, and Gaga was asked to leave the clubhouse. Some reports have gone as far as saying Hal Steinbrenner banned the pop singer from ever entering the locker room again. Upon further review Yankees GM Brian Cashman says Gaga is not banned. However, it was poor timing for her to be in the locker room that evening after the Yankees suffered a lost to their crosstown rival.
We shall see if Lady Gaga can work her way back into the locker room in the future, however judging from her past two New York sports experiences I'd recommend that Gaga find some new teams to support.