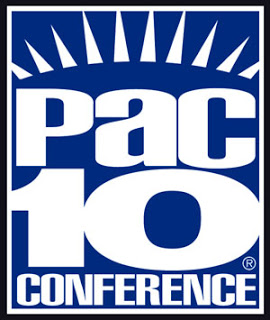 College football season is set to kickoff on Thursday night and over the course of the weekend football fans will be treated to a bunch of amazing opening week games. To help get you ready for the impending college season, we are wrapping up our tour around the country and previewing the BCS conferences. Thanks to our goof friends over at Gridiron Goddess we have a local expert who is ready to talk some PAC 10 football. Thanks to some off the field issues, it looks like the 2010 version of the PAC 10 will be something new and different, and that makes for good football.
PAC 10 Preview 2010
by Gridiron Goddess
The long, cold, dark days of the off-season are almost over. And what an off-season it's been! NCAA Sanctions (ugh), coaching defections, quarterback scandals; a new commissioner and expansion have all been news stories this spring and summer.
USC won't be playing in a bowl game for a couple of seasons, unless they successfully appeal the sanctions. Lane Kiffin may want to rethink his son's name of Knox now that he is once again a son of Troy. Jeremiah Masoli is no longer quacking like a duck, having been dismissed from Oregon. New Pac-10 Commish Larry Scott has hit the ground running. For a few moments we were almost the Pac-16 with Colorado, Texas, Texas Tech, Texas A&M, Oklahoma and Oklahoma State as a part of our conference of champions. In the end though, only Colorado lept at the chance to join the Left Coast's Premiere Athletic Conference. Soon after Utah left the MWC, a conference they'd long since outgrown, to join the new Pac-12.
How the conference will be divided, where the championship game will take place, etc are all yet to be determined and the topic of interesting debates. Myself, I'm a fan of the North/South division with California, Stanford, USC, UCLA, AZ and ASU in one division and the Washingtons, Oregons, Utah and Colorado in the other division. This keeps traditional rivalries like the Civil War, Apple Cup, Cal-Stanford and USC-UCLA in place for yearly matchups. That seems the most logical to me, and yet, that is not the setup that has hit the rumor mill.
For the 2010 season we're still the Pac-10, so let's get on with it and pardon me if I can't muster up my usual enthusiasm. I am sure you understand why. It's been a rough spring and summer for USC fans. I am sick of all the speculation and talk about USC's sanctions. I am ready to just PLAY already and see how it all shakes out.
USC TROJANS
This is a hard one to call folks. Of course USC has talent. And I do think the coaching staff will turn out to be insane. Forget what everyone says about Lane Kiffin. With Monte, Coach O and Kennedy Pola (who is Troy Polamalu's uncle) - how can we go that wrong? Sure there are the sanctions. The loss of scholarships. The transfers and releases from letters of intents. The behavior issues (as of today Freshman safety Patrick Hall has been suspended indefinitely). USC is going to lack their trademark depth for a few years. And that is troubling, to say the least. Especially once injuries are factored in. In fact, Coach Kiffin now has the Trojans practicing NFL style - as in tackling is a scrimmage only event. As he said, the team just can't risk injury like it could in past years. They are basically playing with an NFL roster rather than the larger roster an NCAA team is permitted to have.
Matt Barkley showed remarkable poise and leadership as a freshman last year and he's back and a year older. That can only be good. He's got the exceptionally seasoned Mitch Mustain behind him on the depth chart. Fullback Stanley Havili is back, a senior and will be a key factor in Barkley's passing game. Havili is a fifth year senior and the most experienced member of the Trojan offense. Marc Tyler is getting the start at RB vs Hawaii.
In terms of the SC defense, the front seven are the experienced group, with the secondary being the less experienced players. Senior cornerback Shareece Wright will be joined by freshman cornerback Nickell Robey and sophomore safeties T.J. McDonald and Jawanza Starling. This is, per the usual, a gifted group. They just lack USC's usual depth and they will have some growing pains. Whereas USC's offense has struggled at times in the last two seasons; we've been able to rely on our defense when it counted. This year, it may be the offense we rely on while the defense gets its engines all firing in the right direction.
Oh and by the way, USC still hasn't lost a game outside of the Pac-10 since 2002 and it won't be happening this year either.
The key to the Trojans' success in 2010 begins and ends with Matt Barkley. And this Trojan Alum happens to think if the success of our program is in Barkley's hands, then we're in good shape. A pal in Vegas told me the odds on USC are for a 10 win season. So come on Trojans, let's give them an 11 or 12 or 13 win season just to show them what we're made of. Pride. Heart. Spirit. Let's show them that the USC Football team embodies all the qualities of an ideal Trojan: Faithful, Scholarly, Skillful. Courageous and Ambitious.
USC opens its 2010 season on Thursday, September 2nd @ Hawaii.
STANFORD CARDINAL
Will Jim Harbaugh's Stanford Cardinal (why the singular, Stanford?) take advantage of USC's sanctions and Oregon's QB issues and win the Pac-10? Not likely. But you can bet your ass Harbaugh's big fat mouth is telling his players that they are the team to beat. And let's face it, confidence and swagger do count. The loss of Toby Gerhardt makes their running game a bit of an unknown, but QB Andrew Luck looks to make a Heisman bid of his own this season. Luck is projected to be a potential #1 draft pick in 2011, and with Gerhardt gone we'll get a chance to see him truly shine.
I personally believe that Stanford minus Gerhardt will have a tough time matching last season's eight wins. But they won six Pac-10 games last season, you're thinking. Yes they did. However, their defense is fairly atrocious. Stanford's 2009 defense was ranked 110th against the pass last year - this year's squad has LESS experience. And look around the Pac-10 - a lot of Stanford's opponents have offenses that will only be more potent than last year in their experience under center. It's hard to think that Stanford will be as successful this year as they were last year unless their defense has improved dramatically.
That said, if they haven't improved - there should be a number of high scoring QB shootout style games vs Stanford in the Pac-10 this year and those are ALWAYS fun.
Stanford opens the season at UCLA on Saturday, September 4th.
OREGON DUCKS
The Ducks have not had the easiest of off-seasons. When the 2009 season ended (and who can forget the Halloween smack down of my beloved Trojans?!), they looked to be sitting on top of the Pac-10 pile for 2010 with phenom QB Jeremiah Masoli under center. Yeah, not so much. A few months later and things look mighty different up in Eugene. Masoli is now at Ole Miss.
All spring and summer speculation about who the Ducks staring QB would be swirled around the blogosphere. Would it be senior Nate Costa? That seemed to be the logical choice, since he was experienced. Would it be sophomore Darron Thomas - he would seem the best choice if Coach Kelly were trying to recapture the lightning in a bottle that Masoli (and before him Dennis Dixon) was.
The Ducks are a veteran team, returning 18 starters for 2010. Running back LaMichael James looks to be a major force for the Oregon offense and their experienced O-Line will keep the new QB well protected in the pocket. On defense, well the Ducks are not especially known for their defense though it is certainly serviceable and solid. With the insanely fast and powerful offenses the crew from Eugene has fielded in recent years - that's what they've become known for.
The Ducks will be a contender in the Pac-10 and even with a new QB and all kinds of off-season drama, they are still the favored to repeat as Pac-10 champs.
Oregon opens its season at home against New Mexico on Saturday, September 4th.
OREGON STATE BEAVERS
Jacquizz Rodgers. Damn. He still sparks fear in the hearts of Trojans. Wily little motherfucker. Hell of a player. Oh wait, there's more to Oregon State than Quizz Rodgers? Alright then.
Sophomore Ryan Katz takes over as QB for the Beavers and has a cannon of an arm. Then, of course, there are the Rodgers brothers. Jacquizz ran for 1,440 yards and 21 touchdowns last year. Oh and he also had 78 catches for 522 yards and a touchdown as well. James, on the other hand, had 91 catches for 1,024 yards and nine touchdowns. Oh, and James is a frightening return man. Frightening if you're the team on defense, that is. The O-Line returns four starters and should provide good protection for their new QB.
Oregon State is another Pac-10 school known for its explosive offense who is just average on defense. Last season the Beavers defense ranked 84th against the pass. They ranked 105th in sacks. That's not too scary.
Oregon State opens their season against TCU at Cowboys Stadium in Dallas, Texas on Saturday, September 4th.
ARIZONA WILDCATS
Arizona under Mike Stoops has been quietly and gradually improving over the years. So much so, that The Wildcats could very well be a sleeper contender for Pac-10 champion in 2010. I would not be at all surprised if come January 2011, Arizona has turned in a 9 win season.
QB Nick Foles heads a Wildcat offense that returns much of last year's squad. Foles took over the QB job during the 2009 season and went on to throw for 2,486 yards and 19 touchdowns while going 6-4 as the starter. All three of Arizona's threatening running backs return for 2010. Nic Grisby is possibly the most talented of the group but missed much of last season due to injury. Combined with Keola Antolin and Greg Nwoko, the 'Cats are a threat with the run. The Wildcats receiving corps is depleted this year; but Juron Criner looks to be the breakout star of the group of WRs left in Tucson.
Arizona has had a stifling defense for a few years now. This year they come back with five of their starting front seven from a year ago lost to graduation and/or the NFL. Senior DE's Ricky Elmore and Brooks Reed are back for 2010 and are quite simply the best defensive ends in the entire Pac-10. Not many offensive lines can match the size and power in these two Arizona players. Arizona also lost half of a very strong and consistent secondary, but look to reload with Trevin Wade and Robert Golden.
Arizona has not been to the Rose Bowl in 31 years. You can bet your ass the Wildcats have their eyes trained on that particular prize this season.
Arizona opens their season at Toledo on Friday, September 3rd.