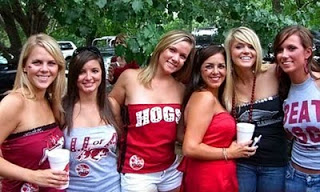 There was plenty to cheer about over the weekend. And even though I was .500 with my gambling record here on Walker Sports, I managed to hit a big one, and that's enough to make me happy. In addition, for those of you keeping score at home, I'm still up on the year, and doing better every week. It's important to get a good jump on the college football schedule, because one teams go into their conference schedules, things can get hairy, and those lines are not as inticing as they seem.
Alabama 24 v. Arkansas 20:
This was Arkansas game. While I may be happy Arkansas came through and covered the 7.5 points, their coach and star QB Ryan Mallet cannot be happy with the effort the Razorbacks put forward in the fourth quarter. On a brighter note, Arkansas has to be happy with the fact they pushed Alabama farther than we have seen anyone push them this season.
Stanford 37 v. Notre Dame 14:
This Standford team is legit. Yes they have a stud quarterback in Andrew Luck, but they are also a physically imposing team. Not something one would typically expect from a Stanford team. Brian Kelly's Notre Dame team simply is not ready to face this level of competition. Covering the 5 points was a breeze for the Cardinals.
Mississippi State 24 v. Georgia 12:
Last one between the hedges please remember to turn the lights out. The lights have gone out on the Mark Richt era in Athens Georgia. I was never a big fan of this year's Bulldog team, but I did not think they would drop to 0-3 in the SEC. I'm not sure there's any way Georgia can pull themselves out of this one. Mississippi takes care of business and easily covered the 1 point and handed me my first loss on the week.
Auburn 35 v. South Carolina 27: This was a great SEC battle. The Gamecocks are still a good team. Some would argue they may be the best team in the SEC East. We will know more about that once Florida takes on Alabama on Saturday. One thing I am becoming quickly aware of is how good Auburn really is. They may play in some close games, but they know how to win. Auburn easily came up with the cover and handed me my second loss on the week.