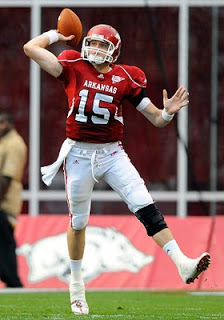 With the second week of the college football season in the books, it's time to revive the one and only Walker Sports College Football Top 25 Poll. Sure you can have your Harris, Coaches, and AP Poll, but in our mines, the Walker Sports Poll is the only one that matters. Plus we always crown a true national champion. For those of you who do not remember, take a moment to look at our first Pre-Season poll that came out a few weeks ago.
The Walker Sports Poll will continue to be updated each Monday so remember to check back each week.
1) Alabama Crimson Tide:
Bama put up big numbers against Penn State on Saturday evening. We will know more about this team once Mark Ingram comes back to full strength. For now they are still the team to beat.
2) Ohio State Buckeyes:
Miami gave them a run on Saturday, but the Buckeyes stood strong. Terelle Pryor is playing at a Hesiman Trophy caliber rate. If he can guide Ohio State through a difficult October this could be a special season in Columbus.
3) Boise State Broncos:
No team lost more by watching another team lose than Boise State. The Virginia Tech loss will hurt this program in the long run.
4) Oklahoma Sooners:
Last time the Sooners lost 5 games in a season, they came back the next year and won a national title. With the way they manhandled Florida State on Saturday, it looks like Bob Stoops group could be on their way to another national championship game.
5) Nebraska Cornhuskers:
The Huskers have flown mostly under the radar this season, but it's still early.
6) TCU Horned Frogs:
Somehow people have forgotten about this powerhouse. If Boise State should falter, you can believe TCU is ready to fill the void as BCS Buster.
7) Florida Gators:
Tim Tebow is not calling the shots under center anymore and it's pretty obvious. The Gators will struggle to keep their top 10 ranking this season.
8) Oregon Ducks:
Don't think this team is legit? Just see what they did to Tennessee over the weekend. A second consecutive trip to the Rose Bowl is possible.
9) Texas Longhorns:
The Longhorns are climbing a lot of peoples rankings. We want to keep an eye on them for another week or so. We hoped UCLA would give them a test, but judging from their play on Saturday, that will not be the case.
10) Iowa Hawkeyes:
One of the best teams that you never watch play. If you want to see discipline and effective defense? Watch the Hawkeyes.
11) Wisconsin Badgers:
This is a stacked team that has a lot of experienced players and a power running game. Big 10 football at its best.
12) Arkansas Razorbacks:
Ryan Mallet is legit, that much is true. It will take every bit of his talent to get the Razorbacks through the SEC West.
13) LSU Tigers:
No matter what LSU does, you always have to wonder if they are once coaching mistake away from disaster.
14) Utah Utes:
Knock off a ranked Pitt team in the opening week, and you get a few eyeballs on you. Being a ranked team is a familiar feeling for the Utes.
15) USC Trojans:
The Trojans did not look good Saturday night against a rebuilding UVA team. USC may not be playing for anything in terms of post season honors but there's still a lot of pride in that jersey, and the Trojans will need to play better going forward if they want maintain that pride.
16) South Carolina Gamecocks:
Impressive victory over a quality, albeit depleted, Georgia team.
17)Auburn Tigers:
Don't look now, but the Tigers are quietly rebuilding. It will be interesting to see how they hold up going into the SEC schedule.
18)Arizona Wildcats:
Don't look now, but the Wildcats are finally stepping up in the PAC 10. Just remember it was the Citadel they knocked off on Saturday
19)Stanford Cardinals:
Impressive shutout of PAC rival. Andrew Luck is the next great PAC 10 quarterback, believe that.
20) Miami Hurricanes:
The Canes still have a ways to go before they step into the national spotlight.
21) Michigan Wolverines:
We don't want to go overboard with this one, as Michigan has shown some flashes of success under Rich Rod in the past just to let us down. However, Denard Robinson seems poised to put Michigan back on the front page and into the headlines for the right reasons.
22) West Virginia Moutaineers:
An impressive win against Marshall on Friday night. It looks like Pitt is going to have some company atop the Big East.
23) Houston Cougars:
Case Keenum is one of the best quarterbacks in the country. Friday night he put on an aerial display. Houston is not a legit BCS Buster, but they can put up some big points and exciting numbers.
24) Penn State Nitny Lions:
Sometimes it's hard breaking in a freshman quarterback. Penn State is finding that out the hard way.
25) Georgia Bull Dogs:
Losing your best player due to an NCAA violation is no way to start your SEC campaign.