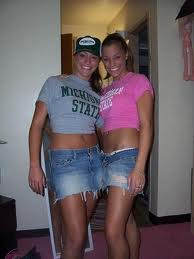 After looking over last week's results I think it's safe to call me Steady Eddy, or Even Steven. Last weekend marked the second consecutive week I managed to go 2-2 with my picks. In the grand scheme of things I guess that's nothing to be upset about, but it sure would be nice to finish on the upside of things next week.
Michigan State 34 v. Michigan 17:
The Spartans have something magical going their way this season. For what it's worth they manged to bottle up superstar quarterback Denard Robinson and hold him to 300 total yards. As I mentioned last week, stop Robinson and you stop the Wolverines.
Michigan with the easy cover on the 4.5.South Carolina 35 v. Alabama 21:
Well, this was the shock of the week. Alabama was riding a 19 game win streak, and seemed poised to waltz through the SEC. However, in the end the schedule proved to be too tough, and Steve Spurrier had one last trick up his sleeve. Bama is still a good team and they will win plenty of covers the rest of the season don't worry.
South Carolina pulls the upset and blows Bama's 6.5 point cover.Arkansas 24 v. Texas A&M 17:
Arkansas once again proved to be a cash cow on the weekend, bringing me my only other win outside of Michigan State. The Razorbacks appear to have righted the ship after their late game collapse against Alabama. Now it will be interesting to see if they can get themselves back into the race for the SEC West title.
Texas A&M keeps it close, but Arkansas comes away with the 6 point cover.Auburn 37 v. Kentucky 34:
I learned two things last weekend that I am finally able to admit to the public. Auburn is good and Cam Newton is a legit quarterback. Second, Auburn wins ugly games and as a result they are a dangerous team to gamble with. Kentucky made this one interesting and it took a last minute field goal just to get Auburn the win. Sadly 3 points was not enough to earn a cover.
Auburn wins the game, but failed to cover the 6 points.