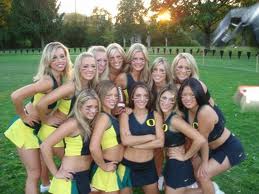 The seasons are changing, the weather is getting cooler, and we are entering conference play in the college football season. If you like football, this has to be your favorite time of the year. Last week I went 2-2 on my picks, respectable but not good enough. This weekend I'm looking to right the ship and get back on the winning track. It won't be easy because inner conference games always seem to throw an extra twist into the mix, but that's a challenge I am up for.
Miami -3.5 v. Clemson:
Despite their record it's pretty obvious this season has not gone as Randy Shannan had planned for his Miami Hurricanes team. Once again the Canes have plenty of talent, but they seem to lack the ability to step up and compete when the bright lights are on. This is something that a Miami football team never had a problem with in the past. The Canes lived to play under the bright lights of The Orange Bowl.
Oklahoma -4 v. Texas:
This is a great rivalry that is flying under the radar this season. Texas is coming off a horrific home loss to UCLA last weekend, and they will not factor into the BCS. However, Oklahoma still has a lot to play for. Even without the BCS this year's Red River Shootout will go a long way to deciding who will play Nebraska for the Big 12 North Championship.
Oklahoma is a sneaky good team, that is flying under the radar, and when the Sooners do this they have their best seasons. After last week's meltdown in Austin, it's clear that the Texas Longhorns simply are not as good as many thought they were. Texas will bounce back from last week but they do not have the necessary talent to keep up with Oklahoma.
Winner Oklahoma wins the game and covers the 4 points.
Wisconsin -2 v. Michigan State: This may be the best game on the weekend. Wisconsin is off to a blistering start this season. In typical fashion the Badgers are using a heavy dose of power running to motor their offense. John Ray is an absolute monster coming out of the backfield. Due to the Badgers ability to run the ball they can use play action passes all day to set up down the field plays.
Michigan State is undefeated on the year, and that's no small feat. Their coach suffered a heart attack after pulling an amazing come from behind victory against Notre Dame two weeks ago. Going into Saturday's game the Spartans will have their head coach back when he sits in the box. Michigan State is going to need all the help they can get if they want to find a way to get by the Badgers. To this point, Michigan State has played well, but they are without a doubt the most overrated undefeated team in the country.
Winner Wisconsin easily covers the 2 and wins the game.

Alabama -8 v. Florida:
The winner of the last two times these teams met has gone on to win the national championship. Saturday's game most likely will not decide the national championship, Bama could still make a play for the BCS Championship even with a loss to Florida. The Gators have found some help in multi-threat player Trey Burton who lit up the scoreboard last weekend with six touchdowns. Florida will need him to be every bit the second coming of Tim Tebow if they want to keep this one close.
Alabama survived a tough game last weekend against Arkansas. However, the rediscovered their best player Mark Ingram. It's amazing what the services of a Heisman Trophy winner can do for a team. Bama is a power running team, and if they rely on their on Saturday they will be able to neutralize Florida's offense by keeping them off the field.
This game shapes up in a similar fashion to last week's Alabama. The difference is Florida is still trying to establish themselves on the field. Bama can turn the screws and put this game away early.
Winner Alabama wins and covers the 8 points.
Stanford +7 v. Oregon:
Its hard to believe that the most intriguing game of the weekend is taking place in Oregon. These two Pac 10 teams are playing at an extremely high level. Stanford has college football's most polished quarterback in Andrew Luck. Oregon has college football's most explosive running back in LaMichael Charles. This is a night game and the crowd will be rocking in support of their Ducks. Stanford is playing great football right now, and most likely they are the better team, but surviving the initial emotions and energy of playing in such a big game will be difficult.
7 points is a lot to lay in such a big game when both teams are so evenly matched.
Winner Stanford wins the game but Oregon keeps things close and covers the 7 points. Going out on a limb I also like the under (+/- 67).