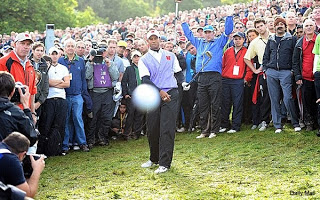 The US team was unable to retain the Ryder Cup today while they were over in Wales. However, not all was lost. Tiger Woods, actually played like Tiger Woods today, good for him, bad for the rest of the PGA.
However, the moment of the Ryder Cup may have come on Saturday when Tiger was battling to get out of the rough. Sure it was a horrible shot, and Tiger drilled a photographer with his ball. But check out the quality of this photograph.
On a side note, check out the guy to the right of Tiger with the cigar... what's up with that?