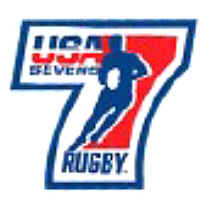 With fall approaching (although it does not feel like it here 95 in DC) in the U.S. it also means we are nearing the start of another Sevens season for the USA national team. During the late part of last season the USA found themselves on quite a tear, even reaching their first ever championship final. Eagles coach Al Caraveli will surely want to build on the success his program experienced last year and take things to the next level in 2010/11. The first step in the process begins now with the fall camp held in Chula Vista. To talk about the player pool selected for this camp, we have the pleasure of bringing in long time Eagle Dallen Stanford of Pakis Corner.
Dallen is here courtesy of our good friends over at
UR7s.com
who we are looking forward to working with throughout the season.
The USA sevens program will have their second selection camp this weekend with head coach Al Caravelli assembling just over 30 players in Chula Vista, San Diego.
Earlier in the summer Caravelli traveled throughout the United States attending various sevens tournaments, including the USA National competition in San Francisco and the National All Star Championships (NASC) in New York. About 70 players were put on the radar with an invite to a summer training camp, after which that number has been reduced to 32. Since none of the USA players are paid full time rugby professionals many still have work or university commitments. While this will hopefully change in the near future, this is how the USA Eagles will prepare for the upcoming 2010/2011 IRB World Sevens Series.
"Each assembly is more and more competitive, and it is all about continually raising the bar on our performances" Caravelli told UR7s.com.
Also invited to this training camp are several club sevens coaches including James Walker and Greg Commins (Belmont Shore), Andy Katoa (Aspen), Aaron Manheimer (Chicago Lions), Craig Hartley (OMBAC), John Tyler (Pacific Coast), Evan Haigh (OPSB), Chris Harvey (MARFU) and Sean Horan (Old Blue). A few other coaches have been invited, and this is an excellent opportunity for them to watch and take part in the sevens program.
"The goal in having these coaches here is to show what we are doing at the national level and try spread that through the entire country" explained Caravelli, and the other goal: "For the athletes it is to select the pool of players that will be competing in the upcoming IRB Series, as well as the Pan American Games next year".
Continuity in the player squad is vital, as the past IRB champions have shown, with Samoa only using 14 players when they won the Series last year. Before that South Africa used just 15 players when they won in 2008/2009. "In 2008/2009 we used 38 players, then 27 players in 2009/2010, with my goal of having around 21 players or less this season" said Caravelli.
"We have a great foundation of players with the likes of Matt Hawkins, Zach Test, Marco Barnard, Shalom Suniula, Nese Malifa, Mark Bokhoven, Thretton Palamo, Colin Hawley and Mike Palefau all returning. What I am excited about this camp is the quality of athletes and the quality of rugby players" said the national coach.
The training camp will be held at the Olympic Training Center (OTC) in Chula Vista (San Diego, California) from Friday 24th September to Sunday 26th September. A squad of 21 players will then be selected, with alternates for the 2010/2011 IRB Sevens season.
A warm-up tour to Singapore for the famous SCC 7s tournament is planned before the Dubai and George IRB Sevens events take place.
USA 7s Selection
Camp Aldridge, James Blaise, Gerson Craigwell, Miles Degutes, Matt Efthimiou, Dimitri Halalilo, Jack (Siaki) Hall, Troy Hawkins, Matthew Hawley, Colin Jones, Gareth Leland, Hunter Kelm, Duncan Komognan, PJ Malifa, Valenese Marshall, Kyle Mauer, Rocco Mokate, Taylor Palamo, Thretton Palefau, Mike Pangelinan, Zach Pati, Don Poynter, Jonathan Pulu, Mile Regas, Nick Roses, Pete Ross, Alex Sakalia, Supeli Suniula, Shalom Test, Zach Tiberio, Peter Vainuku, Siosaia Vota.
UR7s.com columnist Dallen Stanford played 7s for the USA from 2006-2009. He represented Belmont Shore at Nationals this year, finishing second in the nation. Dallen is an ambassador for the Tackling Cancer Foundation, and also writes for RugbyZone, Rugby IQ, Eagles XV and Pakis Corner.
Digg! src="http://digg.com/img/badges/100x20-digg-button.gif" width=100 height=20>