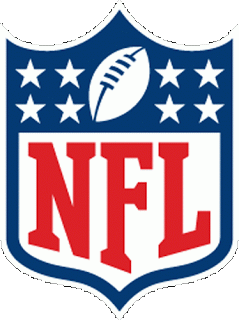 The 2010 NFL season is just around the corner and there is plenty to talk about ahead of Thursday's opening game in New Orleans. With so much going on, let's get right down to business and start breaking down the NFC North.
Green Bay Packers:
This is the year of Aaron Rogers. Last year Rogers lit up NFL scoreboards, and caught the eye of fantasy owners everywhere. This year Rogers won't sneak up on anyone with his ability to pass the ball, but he will still turn plenty of heads. The turning point for the Packers last season came when their offensive line finally gelled together and gave Aaron Rogers sometime in the pocket. Early season indications show the Packers O-Line should pick up where they left off at last season. Ryan Grant is still a solid back who can get Green Bay 1,000 yards on the ground.
On defense the Packers linebacking core is as good as it gets. They are fast and aggressive. They key off the entire defensive unit. The Packer linebackers showed a great ability to blitz the rushing lanes and get into the back field to disrupt plays. Of course in the secondary the Packers have the defensive player of the year in Charles Woodson who proved he still has a little big left in the tank. The biggest obstacle for the Packers defense will be keeping the pressure up. During their lost to the Cardinals in last year's post season, the Packers got away from what they do best, which is pressuring the quarterback and causing confusion. As a result, Green Bay found themselves in a shootout they could not win. That is one of the dangers of having a young team. If a team gets up on them they can become flustered and before you know it, they are in a track meet. Green Bay has learned from last year's mistakes and they will be better suited to stop a fast paced offense.
Minnesota Vikings:
Brett Favre is back and everything is right in Minnesota…. Sort of. Yes Favre is a massive upgrade at quarterback over Tavaris Jackson. This is a fact that no w
ould argue. However, if you think Brett is coming back to have another season like he did in 2009, then you are mistaken. Favre put up career numbers last season and he got the Vikings to the NFC Championship. This year Favre is hurt before the season even started, and the chances of his arm finding lightning in a bottle are very slim.
There are several reasons the Vikings will experience some regression this year. First off, is Brett Favre's health. Sure he is the iron man, but more than anything it was his ankle that kept him away from football all summer. Dr. James Andrews has cleared Favre to play, but he is not at 100%. One good hit could end one of the most storied careers in football (New Orleans will give it a helluva test on Thursday). A second concern about the Minnesota Vikings is their health at receiver. Sidney Rice experienced a breakout year last season when pairing with Brett Favre. He will begin this season on the PUP list while recovering from hip surgery. Rice is expected to miss upwards of eight weeks. Percy Harvin has the skills to replace Rice as the No. 1 receiver, but he is also battling health issues. It was just a few weeks ago when Harvin was carted off the Vikings practice field after suffering the effects of a major migraine. Harvin missed a good portion of the preseason due to migraines, and he could experience a relapse at any moment, which would mean time off the field. The final worry for Vikings is Adrian Peterson. Yes you read that correctly. Peterson is a powerful back who can run over a defender or run away from them. However, he puts the ball on the ground at an alarming rate. This is why I skipped him in all of my fantasy leagues this year. A back who fumbles the ball at a steady rate is a liability.
The Vikings are still a good team, but they will hang closer to the Chicago Bears in terms of record than they will the Green Bay Packers.
Chicago Bears:
There are a lot of questions surrounding the Chicago Bears; Is this Lovie Smith's last season? Will Matt Forte overcome his sophomore slump? Can Jay Cutler play at an elite level? Does Julius Peppers find his inspiration once again? Does Mike Martz have one more great run as an offensive coordinator left in him? Here are my answers to those questions, and in them you will see exactly what I think about the Bears.
1) No. Lovie Smith never really lived up to the hype since taking over as the Bears head coach. Yes he got them to the Super Bowl, but since then the Bears have been mostly forgettable. While I'm not promising a Super Bowl run, Chicago will be much improved this year, and the defense will be revamped. Finishing the year above .500 will help a lot as well.
2) Yes, to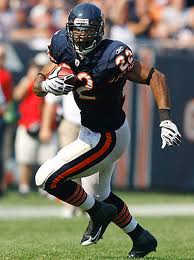 a degree. Matt Forte has shown flashes of the explosion that made him a breakout back his rookie season. There is no question that 2009 was a disappointment, but Forte appears to be ready to return to form in 2010. The biggest obstacle in his way may be his offensive coordinator. Backs under Mike Martz have a way of disappearing in the offense, unless their name is Marshall Faulk.
3) Yes. Mike Martz will not allow Jay Cutler to play at the same level he played at last season. If you look at the stats Cutler was not horrible last year. He simply turned the ball over too much. The new Martz offense will have him chucking the ball around more, but he will be more careful.
4) Yes. Ask anyone from the greater Charlotte area and they will tell you that Julius Peppers has mailed it in for the last two seasons. Now he has a new contract, likely the last of his career, and he needs to secure his legacy. If things are going well in Chicago, Peppers will play well and server as a leader on that defense. In an ideal situation Urlacher and Peppers are the veteran leaders who push each other and help to re-energize their careers.
5) Yes. Mike Martz put together the greatest show on turf. Yes that was a long time ago, but Martz also transformed Jon Kitna into a 4,000 yard passer at Detroit. That is no small feat. Martz can become too pass happy with his offense, but when he is in balance, he knows what he is doing. In Chicago Martz has as good of an arsenal of weapons at his disposal as he's had in years. Jay Cutler is a solid quarterback, and with proper guidance he will cut down the number interceptions he threw last season. Matt Forte is a Pro-Bowl caliber back who can be used in a number of ways out of the backfield. At receiver the Bears have speed in Johnny Knox and they have some size in Aromashodu gives them a big target, and Devin Hester is still lurking as a shifty target.
The Bears will be much improved this year, and they will push the Vikings in the NFC North.
Detroit Lions:
Matthew Stafford has put his mark on the Motor City, and the Detroit Lions are better for it. The Lions may be at the bottom of the NFC North, but they will be far improved from the teams you've seen over the past few seasons. The Biggest reason is Stafford he has brought hope to the Lions. Last season as a rookie, he proved he was ready to be a leader, and his teammates bought into it. Calvin Johnson is one of the best receivers in the league and now he has a guy who looks to go to him early and often. Thanks to some free agent acquisitions, they have revamped the defense and will be able to stop some teams. Detroit is still a long way from reaching the big stage, but they are taking steps in the right direction. If nothing else, the 2010 Detroit Lions will be fun to watch.