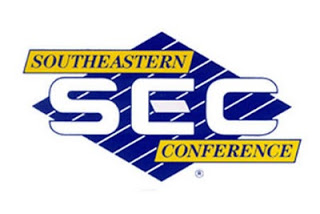 Welcome back everyone, we are ticking away the moments til the 2010 college football season kicks off, and as we continue our trip around the country we are happy to reach out to our friends on the West Coast. Please welcome back Gridiron Goddess and here esteemed staff of writers. Today they are looking at the SEC. The longtime standard of college football, the SEC has produced one powerhouse team after another, and the 2010 season is shaping up to be more of the same.
by Byron Earnheart aka ByronVolFan of the Gridiron Goddess' Harem
It is time. I was watching the re-showing of "America's Got Talent" last Sunday night (because my wife is 9 months pregnant and controls what we watch) and there it was…the announcement…the NFL's Hall of Fame Game kicking off in 1 week. The most useless overhyped football game of all football games…and I nearly cried. It means my beloved sport…the new American pastime…is coming to recall us back from the brink of becoming a soccer-crazed nation. Yes, I got soccer fever for awhile, but it left me lagging like a Daniel Lincoln field goal. The game has abandoned Tiger Woods…LeBron has joined forces in Miami and will forever have any victory tainted by the fact he is on the NBA's equivalent to the New York Yankees. What a terrible summer!
But, fear not, Gridiron Goddess fans…there is hope. She is a bright and shining star beckoning you to stay the course…the North Star in a turbulent sea. She is football…and she will make you laugh, cry, bleed, and laugh…all at once. This is especially true for us SEC fanatics. The time of monitoring spring practice and the idiots who post useless information on the whims of 18 year olds is over. It is time for football. It is time to be filled with pride when your team takes the field to defend the honor of your state against those infidels across the state line. It is a time for revenge or to taste the smarting sting of shameful defeat once more. But it is time…
So, allow me to set down my mint julep, light a cigar, recline in my rocking chair on the porch in my seersucker pants, and tell you what I think about everything about this upcoming year.
SEC Championship Game: Alabama over Florida. This year, it is these two teams at the top and everyone else clawing behind them. And I hate that. My Volunteer heart burns at this fact…but it is true. Alabama is still too good and Florida is too green. Alabama will have a tougher schedule as the West is much deadlier than the East…but the division titles are these two teams' to lose. Don't be surprised if Urban Meyer cries at the end of this game…partly from chest pains and partly because he realizes he probably should have redshirted Tim Tebow.
Now, in their predicted order of finish within the division, here are my thoughts on the rest of the league by division:
SEC West:
The best division in the league this year and possibly the country. Yeah, I said it.
1) Alabama: As stated before, it's theirs to lose. 2 MONSTER RB's returning and a VERY adequate and tested quarterback. On D, I always like stellar linebackers and 'Bama is stacked there too. Yes, McClain is gone…but Hightower is a beast too. Very talented. Expect the name "Nick" to outpace "Bubba", "Junior", "Larry", "Hank", and "Garth" in baby names in the state of Alabama in 2011.
2) Arkansas: This is the year for them. If Petrino can get enough credibility to move on to his next mercenary position, this is the year for him to do it. Mallett is a stud. That's all there is to it. Don't be fooled by the Liberty Bowl performance. I was at that game…and cold doesn't even begin to describe it. Nobody could have performed well in those conditions…and ECU isn't that bad of a team. Their game, at home, against Bama is for the West…but don't get too excited. Key losses in the D-line will hurt and I just don't see the Hogs stopping Ingram and Co. But take heart, your "Woooo Pig Soey" (or however you spell that) will be just as ignorant at the Capital One Bowl or Cotton Bowl as it would be in the Sugar Bowl.
3) LSU: This is no reflection on my belief in LSU talent or coaching. As predicted, last year, Les Miles began to show his true ignorance. This is a team that has been living on borrowed time since Saban left. "Yeah, but they won a National Title". Yes, they have the distinct privilege of being the first 2 loss national champion, violating every reasonable football strategy, and still winning. There is such a thing as "Reversion to the Mean" in football and when you tempt fate as much as the Miles has…it will bite you as it did last year. ..and last year could have been worse. LSU was beaten at Mississippi State and if not for a rookie mistake from Mullen with a QB who might be 5'8", the Bulldogs would have been bowl bound and we might have been talking about the Malzahn era at LSU.
4) Mississippi State: See above. This is a team on the rise. Great young talent that's gotten some good game experience and, arguably, one of the top 5 coaches in the SEC. Mullen did a great job with almost no talent last year and, if not for a freakish defensive play on a questionable offensive call, they would have beaten LSU and been in a bowl. "But, you attacked Miles' coaching and praising Mullen's". Yes, because Miles has coached longer, won a title, and is at a "better" program. I'll give Mullen one call…Miles has had years of stupidity to prove my point. Back to State…great QB talent in the hands of a great QB coach…mean defense coached by an up and coming DC. If you follow Southern football at all, you'll admit that MTSU had a fairly good defense…well, that guy is at State which means exponentially better players playing in an aggressive style. Regardless, State will beat Ole Miss and, in any year, that's all that really matters.
5) Auburn: This was the toughest call for me. For one, I didn't really watch much of Auburn last year. They always seemed to be playing when a more interesting game was on. Yet, they managed to do MUCH better than anyone expected. I put them behind MS State only because I watched more of them than Auburn. Truthfully, 3-5 on this list could be put in any order you wish and will probably be close. I don't know where the wins/losses will be, but, at first glance, Auburn should pull 7 games out this year.
6) Ole Miss: My, how the high and mighty have fallen. Masoli will not save this team. Name me the last great QB that Nutt ever produced? Matt Jones, right? Well, that's an assumption in calling him a QB and not the precursor to a Wildcat formation. The amount of talent this team has lost is astounding. I'm sorry, but this will be a bitter year for the Rebels. I hope the warm embrace of their new mascot (Which I'm sure will be ridiculous…Admiral Ackbar was almost there!) will keep them warm along with their toddies. And the really sad thing is that they may start 5-0. However, it only gets easier when UL Lafayette comes to Oxford. 6-6…and that's a stretch…but not a good SEC showing.
The East:
It's Florida's year…and the rest are there to keep Urban Meyer's medication flowing. (That's just wrong…I'm sorry)
1) Florida: Tebow is gone but this team is still stacked. The East is theirs to lose. Meyer, all health related jokes aside, is a heck of a coach and recruiter. Kermit the Frog could coach this team and still get it to Atlanta for the SEC game. Brantley will do just fine at QB and A.J. Jones will be great at LB. It will be a tougher road than in previous year, sure, but with the East as down as it is…
2) South Carolina: Man, this kills me. Robert Johnson…I mean Coach Spurrier…has got to be on the way out. What's he done for the program? Yet (and this is sad) he has the best returning QB in the East in Garcia. However, losing a beast like Norwood at LB will be tough, an easy SEC East schedule should make up for that. Being 2nd in this division is like being 2nd in "Rock of Love"…you're still nasty and horrible. (I've got to stop watching the reality TV my wife forces on me!)
3) Georgia: Drunk texting from the AD?! Nice! The only way it could be worse would be if their players held up a student while wearing their practice jerseys! Ha ha ha ha…um, wait a minute, that's us. Anyway, what can I say…underperformed last year…but AJ Green, to me, is still a stud. He'll get the touches and get yards. Moving to the 3-4 should be good for a fairly solid LB corp and Easley proved to be fair as the RB. Don't get too excited…
4) Tennessee: I have been dreading this paragraph for months now. The incident with "he who shall remain nameless" has deeply set my beloved program back. Bravado is one thing…but making Spurrier's deal with the devil look innocent is something else entirely. As Amy is a friend of mine and putting my thoughts and opinions on her website, that's all I can say about that! Seriously, this will be one of the "rebuilding years". We have the number one punter and kicker coming in, so that's good. Seriously, there's some talent on this team…but too much is untested and green. The D will be serviceable and if the offense can occasionally get some first downs, we should be fair. I have no idea how good Dooley will be. The Big Orange Kool-Aid is like Guinness…the further one gets from Knoxville, the worst it tastes. If I was hesitant about "he who shall remain nameless" until the first game, (And by and large, I was) then it will take a few games for Dooley. If you're looking for some sort of quantitative analysis…we might make a bowl…we might not. That's what I got for you there.
5) Kentucky: Another team on the rise…but just can't find the apex. Randall Cobb is coming up on his 15th year in college football and should be good again. They'll be like last year…good solid 7 win season but nothing flashy but exceeding expectations and keeping the boosters happy until Calipari can falsify some more SAT scores for his basketball team.
6.) Vanderbilt: Who cares? Really, I'm sorry. I know you lost your beloved coach who barely sniffed at .500 during his time there. You had Cutler. You beat Tennessee once. Good job. But when I read the returning starters list for the 'Dores, it's like reading a list of the Federal Reserve