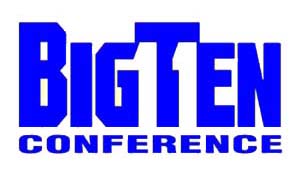 With every passing day, the college football season gets a little closer, and our excitement levels grow exponentially. To show how excited we are about the upcoming football season, we are expanding our efforts in providing college football previews. Today we are happy to invite in two friends of Walker Sports. Please welcome in Oh No Romo, and our good friends from Gridiron Goddess. Today they are are breaking down the Big 10. This conference could easily be the hotbed for the upcoming season.
Oh No Romo drops into Gridiron Goddess to share his Preview of the Big Ten for 2010.
Big Ten 2010: Eyes on the Bucks
OHIO STATE
BUCKEYES
With the season less than a month away, it seems as though Ohio State has its eyes on the prize for another run atop the Big Ten mountain. While they might have received from stiff competition from Iowa last season, hope springs around Columbus at the thought of another BCS berth.
If the Buckeyes hope to succeed, they will need to do so behind third year starter, Terrelle Pryor, who is on the Davey O'Brien watch list. Pryor's performance in the Rose Bowl Game against Oregon left a strong impression. Will we see that Rose Bowl type of performance this season.
Currently, the Buckeyes are a consensus for the top five in numerous preseason polls, including No. 2 in the Sporting News top 100 poll. However, how much stock can be put into these preseason polls? The season will surely tell us.
Ohio State in fact opens up the season with their first four games at home, including a showdown with Miami on Sept. 11. The same Miami that is ready to spring back into prominence, led by their own star at quarterback, Jacory Harris.
They'll face tough road tests against Wisconsin, Minnesota and the Stanzi's. If all goes well, it could mean another Rose Bowl berth for those Noun Phrases.
Iowa Hawkeyes
Who can forget this wonderful little quote from the Orange Bowl, courtesy of Captain America, Ricky Stanzi, who also finds himself on the Davey O'Brien watchlist. Last season, Stanzi proved that he loves his country and guided the Hawkeyes to a Orange Bowl victory over Georgia Tech. I wish I could get him these pants.
Stanzi was among the leaders in interceptions in the conference, last season. If the senior wants to prove himself worth of the O'Brien trophy, he'll need to step it up a notch.
However, it's important to note that the Hawkeyes aren't really known for their passing game. When I think Iowa football, I think defense. Rest assure Hawkeye fans, Iowa's got the defense to get them to another 10-win season.
The Hawkeyes led the Big Ten last season in passing defense and were third behind Ohio State and Penn State for scoring defense. With Adrian Clayborne back for his senior season, opposing offenses will be watching out, as will the Lombardi Award people.
Homefield will surely factor in for the Hawkeyes, as they get Wisconsin, Ohio State, Penn State and Michigan State at home. With their defense still well intact, there's no reason why the Hawkeyes couldn't win nine games. (But they'll still lose to Northwestern).
Penn State Nittany Lions

It's not really a Penn State Preview unless we talk about Joe Paterno. Well, I think the clip should suffice. Despite finishing tied for second in the Big Ten last season, the Nittany Lions found themselves playing in the always popular Capital One Bowl.
The road isn't much easier this year for Penn State though. The defending national champions, the University of Alabama, will host the Nittany Lions on September 11. Penn State will also have road games against Iowa and Ohio State.
The big question for Penn State will be who starts at quarterback. The choices are reportedly between Matthew McGloin and Kevin Newsome. Right now, odds favor Newsome, but that could change. With only underclassmen quarterbacks on the roster, Penn State has a decision to make on whom gets the chance to lead the Nittany Lions.
Michigan State Spartans

Why does Greg Jones have his own web site? Is this some Heisman ploy? I don't know, but I know what to use for wallpaper when I get my new laptop.
It will be all on Jones to step it up for the defense this season. The All-American had nine sacks last season, fifth best in the Big Ten. He also led the Big Ten in tackles with 87.
So to sum up the preview for the Spartans in 2010, it's all about Greg Jones Greg Jones Greg Jones Greg Jones Greg Jones and Greg Jones. I'm sure Mark D'Antonio wishes he could have 11 Greg Jones' on defense
Wisconsin Badgers
What can be said about the Badgers that hasn't already been said? Well what has been said about the Badgers? I'm so confused!
That said, whatever happened to Brooks Bollinger? He had so much hope and then he lost his job to Brett Favre. Granted, it's not like it was an epic training camp battle.
I didn't know somebody stole Ron Dayne's awards. I should really read more Wisconsin news. And who knew that they awarded NFL conference championship rings? I sure didn't know that for sure.
Michigan Wolverines
I'm not really sure what to say about Michigan. I fear that head coach Rich Rodriguez will force me to work out an extra four hours on Sunday.
And if you're wondering, yes there is a Fire Rich Rodriguez web site. It's a good design, but they could have used a better font for the banner. Maybe something a bit lighter..
But enough of the design critique. The real question will be: Tate Forcier or Denard Robinson? Odds favor Forcier, but who knows. This is pretty much a do-or-die season for Rodriguez. The pressure is on him to make the right decision.