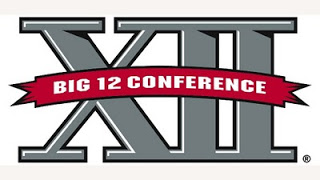 It's hard to believe but college football teams will be reporting to training camps around the country in just a few short days. As a result, here at Walker Sports, we are taking some time to look around the NCAA and do some college football previews. Today we are looking at the Big 12 North. While the Big 12 has been a hot bed for talent, the majority of that talent has been centered in the Big 12 South. While the big boys may still reside in Texas and Oklahoma, there appears to be some emerging powers in the North who are ready to contend for the crown.
Nebraska Cornhuskers:
Head coach Bo Pelini has a lot of faith in his Cornhuskers, and he has every reason to be. Sure Nebraska lost the best player to suit up for them in over a decade, but the coffers are full of talent, and they have a coach who can motivate just about anyone to come out and play.
On the offensive side of the ball, Nebraska brings everyone back into the fold. They have a 1,000 yard rusher in Roy Helu Jr, and behind him is sophomore Rex Burkhead. Combined the two create a dynamic duo that can give opposing defenses fits. Bo Pelini is also returning his senior quarterback Zac Lee who was of the most effective quarterbacks in the Big 12 last season. For what it's worth, the Cornhuskers had talent all over the offensive side of the ball last year, but they still only ranked 75th nationally. Nebraska struggles to put points on the board.
Despite the inadequacies on the offensive side of the ball, Bo Pelini still has one of the best defensive units in the NCAA. The Cornhuskers lost a few players during the offseason, but they are still stacked. Tackle Jared Crick is a first team All-Big 12 selection and while he may not be 'The boy name Suh' but he is damn close to it. The strength of Nebraska is their defense. The front line was able to create havoc in opposing teams backfields. As a result they were able to put teams in third and long situations, and create short field situations for their anemic offense. Look for Nebraska to employ a similar game plan this year.
Record: 10-2 Key Games: Texas, at Texas A&M
Missouri Tigers:
It wasn't too long ago that Missouri was thought to be a serious contender in the Big 12. While those days may be gone, the Tigers proved they are still a talented team last season by picking up 8 wins during a rebuilding year. Now with 15 starters returning it's time for Coach Pinkel's team to show what they are worth.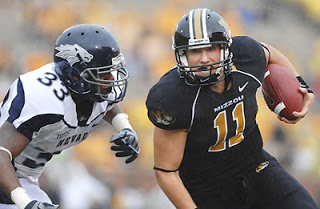 Missouri's 2010 season rest squarely on the broad shoulders of junior quarterback Blaine Gabbert. Last season he stepped in as a first year starter and completed 59 percent of his passes for 3,593 yards and 24 touchdowns. If spring practice has shown us anything, it's that Blaine Gabbert has improved in his passing skills and is ready for a true breakout season in 2010 thus living up to his 5-star Blue Chip recruit label. If there is an issue with Gabbert's game it's his health. Time on the bench due to injury is not an option for the Tigers. If Blaine Gabbert goes down due to injury it will be Jimmy Costello, a former walker on, calling the signals, and that could spell trouble.
On defense it will be up to Aldon Smith to avoid the dreaded sophomore slump, and improve on his 11.5 sacks and Big 12 Freshman of the Year honors last season. If Smith can continue to grow, he has the tools to become one of all the time greats in Missouri history.
Overall the key to Missouri's success will be dominating their weak schedule. Their non-conference games are a joke, and opening up the Big 12 schedule with Colorado and Texas A&M gives the Tigers the opportunity to jump out to a 6-0 start heading into a Homecoming game against Oklahoma. Once they get to that point, all bets on the season are off.
Record: 9-4 Key Games: at Texas A&M, Oklahoma, at Texas Tech
Kansas Jayhawks: First off, let me begin by congratulating the Jayhawks for hiring Turner Gill as their head coach, he is the right man for the job. That being said, Kansas basically falls into this third place ranking ass backwards. For the first time since 2007 Kansas enters the fall without a proven starting quarterback. Not only is record setting quarterback Todd Reesing gone, but during his tenure he never let another one of his backups see the field. This means Turner Gill is breaking in a new guy.
There's no question 2010 is a rebuilding year for the Kansas Jayhawks, and it would take a triumphant effort from Turner Gill to get this team into a meaningful bowl game.
Record: 6-6 Key Games: Kansas State, Colorado
Colorado Buffaloes: It feels like we say this all the time, but this is a make it or break it year for head coach Dan Hawkins. I could write pages about how the Buffaloes need to upgrade their offense, and become of effecent in the red zone in order to score more points, but in the end, it all comes down to what Dan Hawkins does as a coach. When he arrived in Boulder several years back Hawkins had visions of returning Colorado to their glory years, and he was not afraid to share those ideas with you. After watching his team meltdown and finish the 2009 season 3-9, it's become clear Mr. Hawkins has his work cut out for him.
Colorado actually has some legit talent and experience on their roster, but the mental errors have been crippling for this program. In short the Buffaloes need to improve on special teams, drastically cut down on their penalties, improve their turnover margins, and learn some toughness when playing on the road. If they can accomplish those things, the 2010 season won't be a complete lost.
Record: 4-8 Key Games: Hawaii, Baylor
Kansas State Wildcats:
Bill Snyder is trying to recapture the magic during his second stint as the Wildcats coach, but just ask former Washington Redskins coach Joe Gibbs, and he will be the first to tell you, that's easier said than done. During the 2009 season Snyder was able to surprise some of the doubters, by getting the Wildcats into a playoff for the Big 12 Championship. Despite the initial success, Kansas State was still only 6-6 last year and missed out on the post season (that's what happens when you play two FCS teams). Now the success of the 2010 season will rest on the players ability to adapt to Snyder's demanding coaching style. If the players are able to adjust and and deliver the Wildcats could find themselves back in the hunt for the Big 12 North title.
Record: 4-8 Key Games: At Missouri, at Baylor
Iowa State Cyclones: Iowa State is a hurting program. On the offensive side of the ball they only averaged 20.5 points a game, good enough for 103rd in the nation. However, that was the Cyclones first year under head coach Paul Rhoads spread offense. There is no doubt that improvement is expected in 2010. Quarterback Austen Arnaud looked vastly improved during the spring ball. If he can grasp the spread offense there is a chance that the Cyclones offense will be good enough to keep pace with the big boys in the Big 12. On the defensive side of the ball Iowa State is young, but they will be relied upon heavily to keep the Cyclones in games, while their offense attempts to catch up. In the end, a brutal conference schedule could nullify any improvements the Cyclones are able to make on the field, and that's a shame.
Record: 2-10 Key Games: Northern Iowa, at Colorado