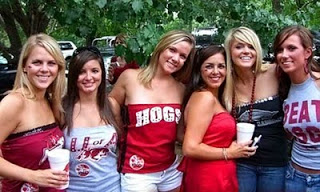 It's hard to believe we are already in the third week of the college football season, but it's here. NC. State and Cincinnati battled it out on Thursday night to get things started off. Since this post is going up so late (sorry guys) we are going to get right to the point and skip some of the usual break down. One thing to keep in mind when reading this weeks picks, I am 7-1 against the spread this season.
Arkansas v. Georgia:
This is a great battle in the SEC. Georgia is coming off of a difficult lost last weekend to South Carolina and they will be looking for redemption this week. Arkansas has one of the best quarterbacks in the country in Ryan Mallet and Saturday will be his first chance to show the country what he can do.
The spread was sitting at Georgia -2 but it is moving quickly so don't waste any time getting in on this one. Georgia is a good team, but their defense has been a wreck this year. I like Arkansas to have a coming out party.
Winner Arkansas wins and covers the 2.
East Carolina v. Virginia Tech:
Obviously this season has not gone the way Virginia Tech wanted it to. An opening loss to Boise State is acceptable, but dropping a home opener to James Madison was not on the agenda. Virginia Tech has to bounce back this week and put a W in the win column. If the Hokies want to win they will have to put up points against the high scoring East Carolina team.
This game has a massive spread, with Va. Tech sitting at -19.5 and I am a bit leery of it. Nonetheless it's too good of an opportunity to pass on. Make a moderate play and take ECU to cover the 19.5. Their offense is too good and they will be able to keep this game interesting.
Winner Virginia Tech wins the game, ECU covers the 19.5
Clemson v. Auburn:
Two Southern schools going at it in this classic. Auburn has been a surprise team this for me this season. Even working their way into the top 25. Clemson is a solid squad but this is not their best group. The spread favors Auburn by 7.5 and I like those odds. Too many people are sleeping on the talent in Auburn.
Winner Auburn wins and covers the 7.5
Texas v. Texas Tech:
A few years ago this game nearly decided the national title, this year the game may not have the same impact on the national stage, but it's still important for bragging rights in the state of Texas. The Longhorns have worked hard to replace a lot of talent on the offensive side of the ball. They are also struggling to establish a rushing attack that defenses will be forced to contend with. Texas Tech has actually improved since losing Mike Leach as their head coach. Tommy Tuberville has stepped in and installed his brand of offense, and the Red Raiders are rolling.
The spread has Texas Tech as a 3.5 point dog and I like that. If there ever was a time to catch Texas sleeping this is it. Look for Texas Tech to make a statement.
Winner Texas Tech pulls the upset and covers the 3.5