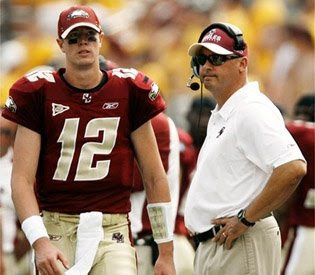 News coming out of Boston today confirms what we have been speculating since this weekend. Boston College athletic director Gene DeFlilippo has fired head coach Jeff Jagodinski. Over the weekend DeFilippo warned he would make such a move if Coach Jags interviewed with an NFL team.
After taking things into consideration, Coach Jags interviewed with the New York Jets on Monday. Today, Gene DeFilippo lived up to his warning and released the Boston College coach of his duties. According to DeFilippo, he wanted a coach who was committed to remain at the University for the long haul, and by interviewing for NFL jobs Coach Jags, did not show a long term commitment to Boston College.
However, don't cry for Coach Jags just yet, while his firing is one of the oddest and potentially the dumbest moves of all time, it will work out for the one time Boston College coach. Jags name has already been bounced around for other NFL jobs. Most notably is becoming a member of Jim Mora Jr's staff in Seattle. Jags already has a pre-existing relationship with Mora, and Seahawks quarterback Matt Hasselback. This is also perfect timing for Coach Jag because his coaching stock could not be higher. He led Boston College to consecutive ACC Championship games in the past two seasons. The Eagles had to vastly overachieve to reach that level this year, and all indicators show that the program will likely experience a set back in the 2009 season. Now Coach Jags can leave on a high note.