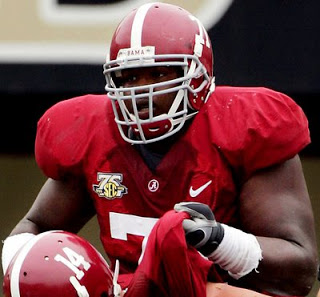 Welcome back everyone, glad you chose to join us once again while we continue our look at the players who chose to leave college early in order to enter the NFL Draft. Today we are looking at a few of the big guys on the offensive line. And since there are not too many linemen who chose to leave early I decided to throw in the glorified linemen the tight ends as well.
Andre Smith OT Projected Top 5: Okay so I thought Andre Smith may be responsible for one of the most bone headed moves in college football history when he hired an agent over is Christmas break and thus was banned from playing for Alabama in the Sugar Bowl. However, after watching Alabama in the Sugar Bowl just being associated with that game only could have hurt Smith's draft stock. Andre Smith is the best tackle in this year's draft that goes for underclassmen and seniors. I can see him going to St. Louis with the second pick.
Eben Britton OT Projected 1st Round: Britton is a great talent, a strong offensive tackle who plays stron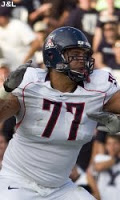 g in both the rushing and the passing game. Britton's will likely go in the mid to late first round and that is only because Andre Smith and Eugene Monroe are sitting in front of him. Nonetheless Eben Britton will be a great pickup on any roster.
James Casey TE Projected 3rd Round: James Casey may not be the most talented tight end in this year's draft but he has the talent to get himself onto a NFL roster and he has the ability to stick on that roster. Casey is 24 years old so now is as good a time as any for him to throw his hat in the ring and make the best out of things.
Jared Cook TE Pr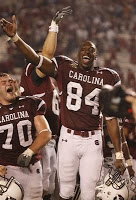 ojected 3rd Round: I find Jared Cook to be interesting; he was the one high point I saw on the South Carolina offense in their bowl game. I believe he has a lot of potential to make an impact on a roster especially if they run a two tight end set. Look for Jared Cook to jump up from this third round projection once he begins to go through the workouts and scouts get a look at his athleticism.
Andrew Davie TE Projected 6th Round: It seems like at every position there is a player who entering the draft and they have no real reason to be. Andrew Davie is that person in this group. I honestly don't think he will be drafted. He did not put up any impressive stats while at Arkansas thanks to teammate D.J. Williams. He was a solid blocker especially down on the goal line, but that is not enough to get yourself a draft pick. If he is lucky someone will take him in the sixth or seventh round and he may be able to make a practice squad.