Okay so we know that Tim Tebow, Sam Bradford and Colt McCoy are all returning to their respective schools for another year and the college football analyst are already drooling over the possibility of hyping up those guys up over the next twelve months.
However, despite those All-Americans choosing to remain in college, there are still plenty of early entrants into the 2009 NFL Draft.
This is Walker-Sports first look at these early entrants.
Remember these are not official rankings as they will change as we watch people work out in the upcoming combine.
First the Wide Outs
Michael Crabtree WR; Projected 1st Round: Okay this one is an absolute no brainer. Crabtree is arguably the most talented player at in position in this year's NFL draft. All Crabtree did in two years on the field at Texas Tech was become the first ever two time Bilentinkoff winner. In addition Crabtree racked up 231 receptions for 3,127 yards and 41 touchdowns. No question this guy has all the tools to make an immediate impact on any teams passing attack.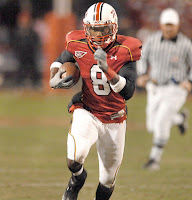 Darrius Heyward-Bey WR; Projected late 1st round early 2nd: Heyward-Bey most likely fell below the radar of the average college football fan. But that does not mean this kid is not a flat out stud. If he had come out last season he could have been the first receiver taken in the draft. This year he is stuck behind Michael Crabtree in the draft order, but then most any other receiver would be to. Heyward-Bey has the prototype receivers build and most likely he will shock at the combine.
Jeremy Maclin WR Projected Early 1st round: Maclin was hampered by playing for Missouri in the Big 12, this means at best he was on the fourth of fifth best team in the conference and sat behind 5 Heisman trophy candidate quarterback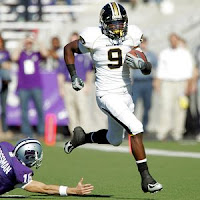 s. Despite all of that Maclin is a great receiver, think of Percy Harvin, without all the hype, and just a little less talent, but he is still a step ahead of Ted Gwynn who came out a few years ago. NFL teams will love this guy's versatility and his ability to play special teams makes him a great pick up.
Hakeem Nicks WR Projected Late 1st early 2nd: Nicks had about as good of a send off party as a player could have during the Meineke Car Care Bowl against West Virginia. Nicks has been the bright spot on the Carolina Tar heels attack for the past two seasons. His size and speed will make him a lock to be a No 1. Receiver at the next level. Personally I like Nick's size and his ability to make himself available to the quarterback. I would place him to go in front of Maryland's Heyward-Bey, thus making Hakeem Nicks a first round pick.
Brandon LaFell WR Projected Second Round: LaFell would have been better off if he could have left last season after LSU's national championship. Shaky play at the quarterback position made it difficult for any receiver to post consistent numbers. LaFell will likely test very well at the combine and in his individual workouts. This will help him to become a solid number two receiver for some NFL team.
Kenny Britt WR Projected 3rd Round: It was smart for Britt to declare early for the NFL draft because frankly he has nothing left to prove in college football. That being said, he stands 6'4 and 205 pounds perfect size for the modern receiver. Britt also posses solid deep threat speed, that he was able to show off as part of the Rutgers rushing game last season.
Jeremy Childs WR Projects 3rd maybe 4th Round: Childs is a very good receiver who got a lot of looks playing in Boise State's wide open attack. He fell down the draft board because this is actually a pretty deep draft class when it comes to receiver. Childs may have been better off waiting another year before entering the NFL.
Austin Collie WR Project Second day: Collie can flat out play. He went over the 100 yard mark eleven times last season. The knock on Collie is his lack of speed, especially on the ball. Collie will have to run well at the combine if he wants to move up the draft chart. In addition Austin Collie spent a few years working as a mission before embarking on his college career, so he will enter the draft at 24 years old, not what you want for a guy who is already on the slow side.
Kevin Ogletree WR Project second day: Some people have Ogletree going as early as the fifth round and I personally think that may be too generous. Ogletree missed all of the 07 season due to a knee injury. He came back last season and caught 58 balls for 723 yards, solid but not great stats. What also hurts Ogletree is the rumor that he left UVA due to clashes with the coaching staff.
Since we were just talking about receiver, then it only makes sense that we take some time out and talk about the guys who get them the ball. Let's take a look at the quarterbacks leaving school early for the NFL.
Matthew Stafford QB Projected Top 5 Pick: With Oklahoma's Sam Bradford electing to remain in school, Stafford has moved up and is the top quarterback in this year's draft. Scouts will not overlook the fact that Matt Stafford played in a pro style system while in college, rather than a spread offense that so many quarterbacks are playing in. There is a legitimate chance that Stafford could go with the top pick to the Detroit Lions.
Mark Sanchez QB Projected late 1st early 2nd: Sanchez just announced his intent to enter the NFL draft earlier today. I am very torn on his ability to play at the next level, and watching him at USC's pro day will help me to better evaluate him. Honestly, due to the anemic ability of the USC offense at times last season. I question Mark Sanchez's overall ability. He struggled against some of the better teams while feasting on the weaker competition of UVA and Washington St.
Josh Freeman QB Projected 3rd round: Josh Freeman came from the school of hard knocks he earned the job as a true freshman and never lost his gig. His career was far better than most know; he was often hidden behind the other stud quarterbacks in the Big 12. Freeman could have benefitted from another year in college, but with Ron Prince leaving and Bill Snyder returning, he did not fit the mold of Snyder's option style QB's. Freeman could become a solid number two quarterback for a NFL team, and maybe a starter one day.