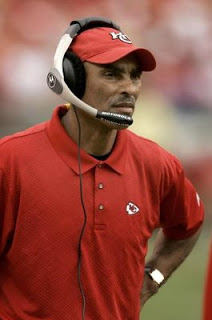 Even though it may be late in the post season NFL coaches are still on the chopping blocks. Today the Kansas City Chiefs gave the pink slip to Herm Edwards. Edwards went 2-14 last season and he went through a laundry list of quarterbacks. Oddly enough, Edwards being fired is actually a relief. Everyone around the league knew that Herm Edwards was on the block when the 2008 season came to completion. However, Kansas City was waiting to make a decision about the coach till after they hired a general manager. Last week Scott Pioli got the GM job and this week Edwards got fired.
Edwards goes out with a three-year regular-season record of 15-33 and one year remaining on a four-year, $12 million contract. Perhaps Edwards greatest legacy will come from the days when he was the Jets head coach and went on a great post game tirade.
On another interesting NFL note with Herm Edwards being fired so late in the season, it could potentially open the door for more firings. Mainly what I am thinking is down in Dallas.