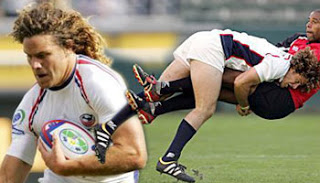 I'd like to take this opportunity to welcome the newest addition to the Walker-Sports family,
HeavensGame.com
. That's right we love rugby here at Walker-Sports and so does
Heavens Game
. They will be providing us with some great rugby coverage so please continue to check back in and see what they have to say.
News of Scott Johnson's move to The Osprey's and subsequent resignation from the USA Eagles coaching role will be met with varying emotions dependant on where your loyalties lie.
The Osprey's will go from strength to strength, Johnson knows many of the players through his days with the Welsh squad. That really isn't the issue here.
What of The Eagles?
This is a real blow for them. Not because they have lost Johnson, more because they have now shown that they are not capable of attracting the best coaches and retaining them for the good of U.S. Rugby.
The RWC is two and a half years away. Assuming that U.S. Rugby will seek out a coach with similar standing in the world arena they will now need to wait for the end of the Super 14/European CUp and domestic British seasons to end before they will realistically get an answer. Thus eating into valuable preperation time for The RWC.
Who would want the role?
The Eagles job has limitations, professional players are not as plentiful as they once were, lack of a high quality club competition etc..
The union has spent a lot of money on the junior structure in the country so how much money there is left in the pot is anyone's guess.
There are some candidates who would do an excellent job. Lofreda, the former Argentine coach, is one.
He is used to working within the constraints of having his players unavailable to him for long periods and getting the best out of an amateur club feeder system.
This decision is a vital one for U.S.Rugby if they want to have credibility in the rugby world.