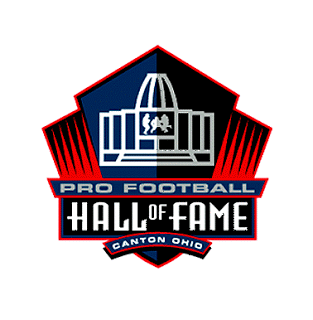 Yesterday, the NFL announced their 17 finalist eligible for induction as part of this year's class to the NFL Hall of Fame. The 17 finalist will be discussed and voted on January 31st just before the Super Bowl, and the winners will be announced at that point. The panel can elect anywhere from four to seven men on the list. With that being said, let's take a look at the finalist list and see who is deserving of making it into the NFL Hall of Fame in 2009.
Bruce Smith DE: Bruce Smith is the NFL's all time sack leader. While Smith is remembered for his great career with the Buffalo Bills, he actually etched his name into the record books while playing for the Washington Redskins. Smith was a phenomenal player in his youth. However, this being his first time on the ballot, it is difficult to put Smith in the Hall this year. However, this is not an overwhelmingly strong class, so I think he sneaks in.
Shannon Sharpe TE: Sharpe helped to revolutionize the tight end position. He was one the first tight ends to be a true threat stretching the field with his size and speed. Shannon Sharpe won three Super Bowls between the Denver Broncos and the Baltimore Ravens. Sharpe was a helluva player, but not a first ballot Hall of Famer.
Rod Woodson CB: One of the best defensive backs of all time. Woodson played every position in the secondary, and he played them well. The hardest part about putting Woodson into the Hall of Fame is deciding what team he will go in under.
John Randle DT: Far too often it is the face paint, and the trash talking that we remember John Randle for, and not the double digit sacks he recorded in eight consecutive seasons. Those are numbers that are just silly considering that John Randle was a defensive tackle, a position that is typically known for stopping the run and not racking up the big sack numbers.
Cris Carter WR: Carter was passed up on last year's balloting for the Hall of Fame, but last year was all about the Redskins. Carter had a great career that unfortunately most people never saw. Cris Carter always seemed to be just a step behind Jerry Rice (everyone was). Despite that, Carter ranks in the top five in pretty much every receiving category and he deserves to be in the Hall of Fame this year.
Andre Reed WR: Reed was a long time star wide out for the Buffalo Bills, and he spent one year with the Washington Redskins. He ranks in the top in pretty much every receiving category. His stats are not as gaudy as Cris Carter's but they are solid. Personally, I never saw Reed as a Hall of Fame caliber receiver. He played on a high power offense that helped to inflate his stats. Nonetheless if there was a year for him to make it into the Hall of Fame, this would be Reeds year.
Richard Dent DE: Richard Dent put together one of the best post season performances in league history in 1985 while he was playing for the vaulted 1985 Chicago Bears defense. In the opening round Dent recorded 7 tackles 3.5 sacks and forced two fumbles. It was during the 1985 season that Dent also led the league with 17 sacks. Sadly Dent's career peaked in 1985; he would eventually end up bouncing around the league while fighting off injuries. While, being a key part of the 1985 Bears, defense, Dent's entire body of work, leaves him still short of a Hall of Fame career.
Russ Grimm G: Grimm has been kicked around on this list for some time now. Not many know about the one time dominating guard, but being a blog based in Washington D.C. I've had the pleasure of learning all about Grimm and his time spent on the Oline as a member of the Hogs. They were an intimidating group that paced the Washington Redskins throughout the 1980's and Grimm deserves a trip to Canton.
Bob Kuechenberg G: Bob Kuechenberg was a mainstay on the Miami Dolphins offensive line during their hay days of the 1970's. He played on a line with three other Hall of Fame linemen. While having a solid playing career, it can be difficult to gage just how good an offensive lineman really is. However, if I am voting Grimm in, then Kuechenberg has the credentials to make the Hall of Fame as well.
Randall McDaniel G: I have to be honest; I am not really sure how he made this final cut list. McDaniel was a good NFL player, but I'm just not sure that he put together a Hall of Fame career. While this is a down year, for inductees into the Hall of Fame, Randall McDaniel will have to wait another year before he hears his name called.
Cortez Kennedy DT: Kennedy put together a solid ten year career out on the west coast. During his ten seasons Kennedy was a onetime defensive player of the year award winner, and a four time Pro-Bowler. All of those accolades mean Kennedy put together a solid career, but not a Hall of Fame career.
Dermontti Dawson C: Dawson was one of the ironmen of the NFL. He played in 171 consecutive games before hamstring injuries eventually sidelined him. That's an impressive feat for offensive linemen. In addition Dermontti Dawson also earned his way to seven consecutive Pro-Bowls. However, he is not a Hall of Fame player, not with this year's class.
Derrick Thomas LB: Thomas had an amazing career that was cut far too short. He still holds the record for the most sacks in a single game.
Claude Humphrey DE: Humphrey's made this list because of an extension from the senior committee. Humphrey put together an impressive career during his time. The senior selections are always difficult for me. Personally, I believe Humphrey's did enough to earn his way into the Hall of Fame, but it's difficult to tell if he will be voted in this year.
Bob Hayes WR: Bullet Bob Hayes was once considered the world's fastest man. While playing for the Dallas Cowboys, Hayes was a standout receiver. He is also one of the few players who were able to make the transition from track to football. Bob Hayes is a Hall of Famer.
Paul Tagliabue: This one is a no brainer to me. As a matter of fact, I'm not sure why he didn't make the cut during last year's voting. Tagliabue is responsible for making the NFL the product that we all love today. Without him, none of this happens.
Ralph Wilson: Wilson was the founder of the Buffalo Bills, and he was extremely influential in growing the NFL to what it is today. While I do believe the Wilson is a Hall of Fame caliber owner and front office man. I do not think he goes in this year. Especially if Tagliabue goes in, this should be his special time to go into the Hall of Fame.