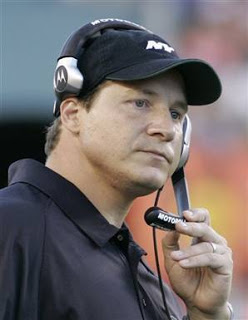 The Cleveland Browns were one of the first teams to fire their head coach when the 2008 season came to a conclusion, and they wasted no time in finding Romeo's replacement. According to sources around the NFL, the Cleveland Browns will soon announce Eric Mangini as their new head coach.
Mangini was the New York Jets head coach before being ousted after their late season self destruction. The Browns turned to Mangini once Cowher made it clear he was not ready to return to the sidelines. Many felt that Eric Mangini was wrongfully blamed for the Jets downfall this season, and with this hiring, Mangini will have the opportunity to jump right back into the saddle.
Now the remaining question for the Cleveland Browns is who will their hire to be their new General Manager. Scott Peoli is still the leading candidate for the job. Sources are reporting that an official announcement for the Mangini hiring is being withheld till the Browns can put a General Manager into place.