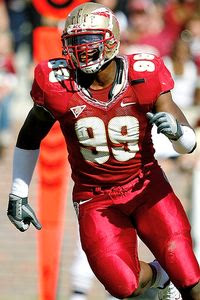 While this year's seniors are working out down south and getting ready for the Senior Bowl, there are plenty of other talented players who are getting ready for the combine and for their pro days because they are not eligible for the senior day. Those who are not eligible are the underclassmen who declared early for the NFL draft. In our ongoing effort to bring you the best draft coverage around, we are going to take a moment and look at the defensive players who declared early for the NFL Draft.
Everette Brown DE Projected 1st Round: This guy reminds me of Chris Long who was the number two overall draft pick in last year's NFL Draft. Everette Brown had a great junior season last year picking up 13.5 sacks and he led the ACC in tackles for a loss. There is no doubt that Brown was responsible for the resurgence of the Florida State defense. When you look at him, he does not have the size or the physical stats that the typical defensive end would have, but he has great speed off the ball, and a great motor.
Greg Hardy DE Projected 1st Round: If he had come out three or four years ago Greg Hardy would have been a lock to be a top 15 draft pick. However, in today's NFL teams look at character and off the field activities almost as much as what a player can do on the field, Greg Hardy's draft stock is falling. Hardy has had some off the field altercations combine that with injury problems and there's a legitimate chance Hardy could slip into the second round.
Vontae Davis CB Projected 1st Round: Vontae Davis is going to make somebody very happy next season that is along as he does not follow in his brother's (Vernon Davis) footsteps. Vontae Davis has all the measurable he is big, strong and he has 4.4 forty speed. While he has all the physical attributes he has some of the mental letdowns that his Vernon suffers from. Last season Vontae obviously took plays off and was disinterested with playing college football.
Aaron Maybin DE Projected Late 1st Round: Aaron Maybin is an elite pass rusher. Most likely he is a first round prospect however he will need to be in the right scheme. This means his draft position will be affected by who is on the board when. Maybin lacks some size and as a result he is not a solid fit for all schemes, and while being a great pass rusher he does not have the motor that Everette Brown has.
Sean Derrick Marks DT Projected 1st Round: I really like what this kid has to offer. Not to mention I love the fact that he can play both tackle in a 3-4 scheme as well as defensive end in a 4-3 scheme. This means that Marks can play on pretty much any defensive scheme out there. If he moves to a 3-4 scheme he has the potential to become a deadly force once he develops some interior rush moves.
D.J. Moore CB Projected 1st Round: Moore is extremely versatile and that is why he will be a first round draft pick. D.J. Moore proved to be a standout kick returner and receiver while he was at Vanderbilt, and he is a great corner back as well. While being a little undersized, Moore makes up for it with his intensity on the field. Moore hits like a safety.
Ricky-Jean Francois DT Projected 2nd Round: Most likely Francois will go in the second round, but he is also overvalued. Rick-Jean is a bit undersized for the tackle position, and he will need to be surrounding by some good players to help keep pressure off of him.
Paul Kruger DE Projected Late 2nd Round: Like many other players who have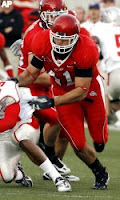 come out of Utah and BYU in the past, Paul Kruger is older than your typical third year sophomore. What this means is Kruger is coming into the NFL with a mature and NFL ready body. That is very important for a player who is going to line up in the trenches. In addition, he has the frame to pack on some extra pounds if he finds that he is still too undersized for the NFL game.
Sean Smith CB Projected late 2nd Round: Sean Smith stands 6-foot-3 and weighs in at about 220 pounds. He is a big boy who can move with is 4.5 second forty yard dash time as well. The only reason Smith has dropped from the first round and into late second round is due to the likely position change he will make once drafted. Due to his large stature and hard hitting nature Sean Smith will most likely find the NFL field as a safety rather than his natural cornerback position.
Brandon Williams DE Projected 3rd Round: Brandon Williams was a project and he has come a long way from the days when he first entered college football. Williams transformed himself into a legitimate threat at the defensive end position. He has the ability to improve his draft stock but he will need to have a great showing in all his pre draft workouts. There is also the possibility that Williams will need to ad bulk to his 255 pound frame.
Emmanuel Cook S Projected 4th Round: Cook is the typical type of pick up that you see a team make in on the second day of the draft in the late rounds. Emmanuel Cook is a good safety and he is a big hitter. However, he struggles in coverage and often times can get lost on the field. This is while he will be picked up as a guy who can pad a roster and maybe make a name for himself on special teams.
Gerald McRath LB Projected 4th Round: Gerald McRath is a solid player who has a lot of playing experience from his days at Southern Miss. The problem is he has the build of a large safety rather than that of a linebacker. Due to this in between nature McRath will need to the right system that can utilized his unique skill set.
Captain Munnerlyn CB Projected 5th round: I am going out on a limb and declaring Munnerlyn to be one of the diamonds in the rough and he will be a good player for some NFL team. He is a little undersized, but he makes up for that with 4.3 speed and a love for contact.
Jerraud Powers CB Projected 5th Round: To be honest, this probably was not a smart move on Jerraud Powers' part. He could have benefited from another year in college and getting coached by a great defensive staff at Auburn. Instead he now must take the hard road to NFL success, which can prove to be a very bumpy path. I really like the tools Powers possesses he is a physical corner who can really help out a defense against the rush. However, we most likely won't get to see any of that potential on an NFL field for a couple of season.