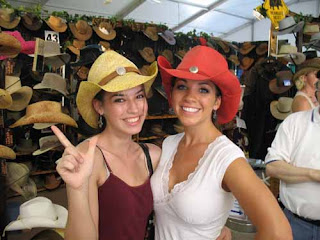 Lucky for us, New Years falls on a Thursday that means many of us are taking Friday off as well and enjoying a long weekend. What better way to enjoy a long weekend than kicking back and watching some college football. That's right, the College Football Pick'em Bowl Edition Rolls on. Check out our latest batch of picks.
Cotton Bowl Mississippi vs. Texas Tech: The highlight of the Ole Miss season had to come when they managed to knock off Florida in the Swamp. In an odd twist of fate, that could also be considered the highlight of the Florida Gators season. Despite all of that, Mississippi has to be thrilled with being chosen to play in the Cotton Bowl. If there was a team that was the epitome of balance it is the Ole Miss Rebels. Mississippi finished the season ranked third in the SEC in rushing and fourth in passing; that is something any team would be proud of. Head Coach Houston Nutt certainly wasted no time leaving his mark on this program. One thing is for sure, Ole Miss will be fired up and ready to play in the Cotton Bowl, they are marking this as a watershed moment for their program, and they expect to be able to build on their success.
Standing between Ole Miss and their return to glory are the Texas Tech Red Raiders. There was a brief moment (about one week) when the Red Raiders where the hottest team in the country. However, the brutality proved to be too much for them to overcome and in all honesty that is nothing to be ashamed of. The Texas Tech faithful are still upset about being snubbed by the BCS games, and that is understandable, the Red Raiders were a one lost team this season, unfortunately for them that one lost came late in the season and they paid the ultimate price for it. One would think playing in Dallas would make this a home game for Texas Tech, and while it will help, the home field advantage will not be the deciding factor for the Red Raiders. The key to a Texas Tech victory will be focus. The Red Raiders seemingly have been marred by distractions since they wrapped up their regular season. First there was the Graham Harold controversy with him being snubbed on a Heisman invitation. And now there is the Mike Leach question. Despite signing a massive $12 million contract extension, Leach has been linked to basically every coaching vacancy in college football, and with opening popping up every day in the NFL, it would not be surprising if Leach's name does not come to the surface once again.
The spread has Ole Miss listed as a five point underdog. This will be a big game for a very young Mississippi Rebels team. Dallas will be a hostile environment for them. On the other side of the ball, Texas Tech is one of the most explosive and impressive offensive units to watch in college football. The bottom line is someone on the Ole Miss defense will need to find a way to slow down Michael Crabtree, and considering the fact that no one in the entire country has been able to do that, I highly doubt that Ole Miss will be able to slow down the all world receiver. Texas Tech covers the spread and wins the game.
Liberty Bowl Kentucky vs. East Carolina: Remember when East Carolina was the darling of college football? People were clamoring about how the Pirates would crash the BCS after winning Conference USA. Well, they did manage to win their conference, but not much else went the Pirates way as they suffered a mid-season meltdown in October. While being excited about being invited to a bowl game, one has to think that Kentucky just wants the Liberty Bowl to come to a conclusion as quickly as possible. This is one of those situations where Kentucky has nothing to gain from this bowl game. If the Wildcats win the game, many will say that is what Kentucky is supposed to do; ECU is a small conference school. If Kentucky loses to ECU it is a disaster because they lost to a small conference school. Making things worse for the Wildcats, is they are missing their starting quarterback Randall Cobb who had knee surgery in early December. The spread has ECU listed as a three point favorite, and I have to think they will take care of business in this one. Skip Holtz had his boys focused in the Conference USA Championship game, and he will have them ready once again to perform in the Liberty Bowl.
Sugar Bowl Utah vs. Alabama: If the Orange Bowl is the biggest stinker of the BCS Bowl games, then the Sugar Bowl has to be considered the BCS game most likely to become a blowout. Alabama has been amazing to watch this season. The only blemish they suffered on the season was at the hands of Florida in the SEC Title game. The Crimson Tide have one of the best defenses in the country, and when given time Nick Saban has proven what he can do when game planning for an opponent. Many of us remember how hungry the Alabama defense was when they came out in their season opener against Georgia. You can expect the Alabama defense to come out in the Sugar Bowl with the same level of intensity. Utah had a great season, and actually played a tough schedule with games against TCU and BYU. This is not the Utes first trip to a BCS game, if you can think back; they were the original BCS busters when Alex Smith was calling the shots. Utah does have some experience playing against tough defenses thanks to their game with TCU earlier in the season. But for as good as TCU is, they do not have the defensive genus of Nick Saban. The spread favors Alabama by 10 points. I have to think with the obvious home field advantage of playing in New Orleans and the extra time to game plan that Alabama will be able to control this game and win.