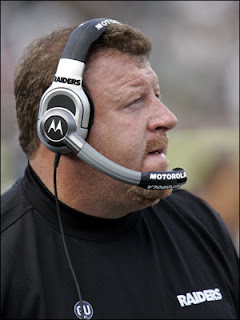 Yesterday evening the Oakland Raiders announced they have finally filled their coaching vacancy. And who did they find after their several month search for a new head coach? The guy who has been in charge since mid October, Tom Cable. Cable was promoted yesterday when the Oakland Raiders removed the interim tag, and made him the full time head coach.
Tom Cable went 4-8 last season after taking over as the head coach of the Raiders once Lane Kiffen was fired. Cable had been the offensive line coach for the Raiders before being promoted to interim coach.
There is no question that the Oakland Raiders need a lot of help. And there are plenty out there who would say the first change the Raiders need to make in their attempt to reclaim past success would be removing Al Davis as owner and general manager. I am one to agree with that school of thought. However, the reality of the situation is Al Davis is not going anywhere. He owns the Oakland Raiders and despite some help concerns he does not appear to be going anywhere any time soon. As a result, his new head coach Tom Cable will always have to answer to Davis and Cable will always have his hands tied.