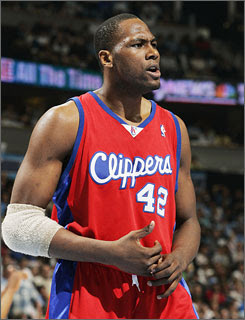 Elton Brand will not be a part of the Philadelphia 76'ers post season run. The big man who injured his right shoulder earlier this season has elected to have a surgery that will cost him the rest of the season.
Elton Brand signed a five-year deal worth nearly $80 million in July and averaged only 13.8 points and 8.8 rebounds in 29 games. He was first injured his shoulder on December 17. Brand missed all but nine games of last season with a torn Achillies.
"Elton wanted to do whatever he could to get back on the court and initially elected to forgo surgery in order to help his teammates," team president Ed Stefanski said. "He worked as hard as he could over the past six weeks to return, however the scope of the injury would not allow it."