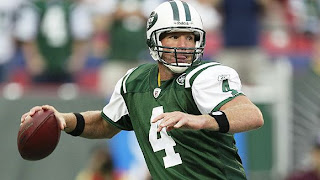 According to sources over at
FoxSports
.com and by sources I mean the one and only Jay
Glazer
, New York Jets quarterback Brett
Favre
has informed the organization of his retirement. Yes, I know we have all seen this song and dance before, but this time it appears to be genuine and for real. Brett
Favre
is ready to retire from the NFL.
We all know about the
Favre
controversy
from last off season that went well into the summer. It is also the reason that Brett ended up in New York instead of Green Bay where he should have stayed. The difference between this years retirement and last seasons, is now
Favre
is retiring on his own accord.
Brett
Favre
looked like he made the right choice making the move to becoming a New York Jet earlier this year. At one point in late October the Jets were in first place in their division and some were even talking Super Bowl. However, a bicep injury would cause
Favre
to lose that trademark rocket arm. As a result he was
relegated
to being a normal quarterback and as a result the Jets limped down the stretch and missed the playoffs.
Another factor aiding in the
Favre
retirement has to be getting thrown under the bus by his teammates. Thomas Jones among others went on the radio in January and blasted
Favre
as the reason the Jets failed to make the playoffs. This is something Brett
Favre
is not used to. When he was a Green Bay Packer, Brett was untouchable, not so much the case in New York.
While many may be skeptical of this retirement, you can probably safely bet that Mr.
Favre
will not return to football again. Last season was his farewell, and the game will miss Brett
Favre
.