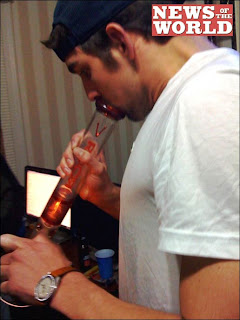 The official word came down earlier today, that U.S. swimmer Michael Phelps will be suspended due to the recent pictures that have surfaced on the internet.
USA Swimming has reprimanded Michael Phelps under its Code of Conduct by withdrawing financial support and the eligibility to compete for a period of three months effective today, Feb. 5, 2009.

This is not a situation where any anti-doping rule was violated, but we decided to send a strong message to Michael because he disappointed so many people, particularly the hundreds of thousands of USA Swimming member kids who look up to him as a role model and a hero.

Michael has voluntarily accepted this reprimand and has committed to earn back our trust.


Too bad the suspension does not come at a time when Phelps would actually be working in the pool.