With April just around the corner that means the NFL Draft is a little over three weeks away.
I know we have hit you in the head with mock drafts so far this offseason, but we do it because we love you the reader.
Today, Walker-Sports is prepared to unveil our most recent NFL Mock Draft.
With the free agent market being on fire during February and pro-days spinning out of control over the past few weeks, we figured it's time to make some adjustments to your big board.
Take a look and let us know what you think.
Detroit Lions: Jason Smith OT; Smith has flirted with the top spot in our mock drafts before and recent news out of Detroit has us liking him to fill this position once again. The Lions want their draft pick under contract before draft day, like the Dolphins did last season. That most likely rule out a QB being drafting with the number one pick. Enter Jason Smith the most talented all around linemen in this year's draft.
St. Louis Rams: Eugene Monroe OT; Orlando Pace has been released by the Rams, and now St. Louis now have a massive hole to fill on their O-Line. Monroe is a physically talented lineman and he is a quality char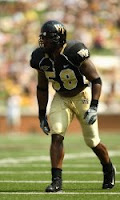 acter guy, something the Rams love.
Kansas City Chiefs: Aaron Curry LB; Kansas City could go a lot of directions with this pick. The sheik pick is Michael Crabtree. Todd Haley has a proven track record with young receivers but Crabtree's injury may be too much for the Chiefs to overlook. The Chiefs are moving to a 3-4 Defense, and they need someone who can give an immediate impact on the field. Curry is without a doubt the best defensive player available in the draft this year.
Seattle Seahawks: An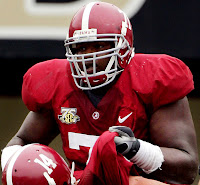 dre Smith; Like a lot of teams in this year's draft, the Seahawks have an aging tackle in Walter Jones. He has 12 seasons under his belt and now would be a good chance to begin grooming his replacement. Smith is a big body who can step in and play guard while Jones finishes out his last few seasons.
Cleveland Browns: Brian Orakpo DE, This guys draft stock just keeps soaring higher and higher. The Browns need a ton of help on the defensive side of the ball, and Orakpo is an impact player who will disrupt any offense with his pass rushing ability.
Cincinnati Bengals: B.J. Raji DT, the Bengals have a lot of holes they need to fill with this pick. An offensive linemen would be an ideal pick, but with both Smiths and Monroe off the board, it would be wise for Cincinnati to address the issues on the defensive side of the ball. In B.J. Raji the Bengals get a solid interior defender who will fix up what has been a spotty rush defense.
Oakland Raiders: Michael Crabtree; Al Davis loves speed and big play receivers. Crabtree has dropped on many draft boards thanks to the stress fracture in his foot. Nonetheless that will not be enough to keep the Raiders away from him.
Jacksonville Jaguars: Matt Stafford QB; David Garrard has been a solid addition to the Jaguars roster; however he has failed to get them over the hump. With the way his contract is structured Jacksonville can get out of a contract with David Garrard in 2010 without taking a big hit. That will give Stafford a year to watch and learn the system.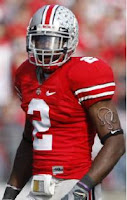 Green Bay Packers: Malcolm Jenkins DB; The Packers need help in their secondary and Jenkins is a guy who could possibly play a number of positions as a defensive back.
San Francisco 49'ers: Everette Brown DE/LB; The 49'ers need help on both their offensive and defensive lines however, it is not worth blowing this pick and reaching to draft a tackle when there are still plenty of studs left on the defensive side of the ball.
Buffalo Bills: Aaron Maybin DE/LB; I think Maybin could be one of the steals in this year's NFL Draft. He has a burst off the edge that makes him a huge threat.
Denver Broncos: Brian Cushing; I won't lie Cushing most likely is not the Broncos first choice at this spot, but he is a good fit for them. Brian Cushing fits the mold for their defense and could become a longtime staple in their lineup.
Washington Redskins: Rey Maualuga LB; Maualuga is a hard hitting machine. The Redskins could use another linebacker to boost their average core.
New Orleans Saints: Chris Wells RB; Deuce is gone and Wells fits the mold near perfectly. Granted the Saints could use a DB with this pick, but the last two seasons proved Reggie Bush cannot handle the fulltime workload.
Houston Texans: Vontae Davis DB; A pass rusher would be an ideal pick, to accompany Mario Williams, but an upgrade in the defensive secondary would be a welcome addition.
San Diego Chargers: Knowshon Moreno RB; Despite what you may hear, there is a lot to be desired in regards to the Chargers running back situation. Bringing in Moreno allows L.T. to become expendable.
New York Jets: Josh Freedman QB; Brett Favre is gone and the Jets missed out on Jay Cutler. Right now there is no one on the roster capable of stepping up taking over the starting QB role. Freedman has limitless potential and could become a franchise quarterback.
Denver Broncos: Peria Jerry DT; The Broncos continue their rebuilding efforts on the defensive side of the ball. If the defense wasn't so bad, Cutler may still have a job in Denver.
Tampa Bay Buccaneers Darius Hayward-Bey WR; this is a bit of a reach for the young receiver, but h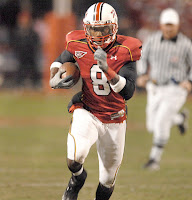 e is talented when he put his mind to it and the Bucs could use the help.
Detroit Lions Mark Sanchez; The USC has showed some promise during his pre draft workouts. I won't lie I am more down on Mark Sanchez than most people are. If Detroit picks him up with the 21st pick then they have a steal of a pick.
Philadelphia Eagles Eben Britton OT; Bringing in Eben Britton allows the Eagles to begin the youth movement on their offensive line. This is something the Eagles desperately need to do.
Minnesota Vikings Percy Harvins WR; Right now I would say the Vikings have had an awful offseason. They missed out on T.J. and they failed to secure a quarterback during free agency. Picking up Harvins in the draft would at least a step in the right direction.
New England Patriots Clay Mathews LB; The Patriots are still old on the defensive side of the ball. In Mathews they get a linebacker they can build around for a long time to come.
Atlanta Falcons Brandon Pettigrew TE; There was a time when the Falcons knew how to utilize the tight end position. Bringing in Pettigrew may help Atlanta to remember some of their roots.
Miami Dolphins Kenny Brit WR; The Dolphins have made a lot of the right moves off the field recently. Bringing in Brit will open the Miami passing game and give Pennington a new target.
Baltimore Ravens James Laurinaitis LB; The Ravens lost a lot of talent in their line backing core due to free agency. Bringing Laurinaitis into the fold and allowing him to learn under Ray Lewis is a good way to beef their defense back up.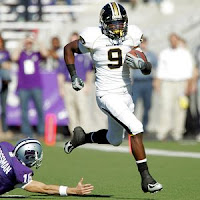 Indianapolis Colts Jeremy Maclin WR; Harrison is gone and now it's time to find his replacement. Jeremy Maclin presents himself as a more versatile receiver than Harrison could ever dream to be.
Philadelphia Eagles LeSean McCoy; Brian Westbrook has been a workhorse for the Eagles, but he is breaking down quicker than Philadelphia would like. Bringing in McCoy will give the Eagles a solid backup running back to spell their stud.
New York Giants Hakeem Nicks WR; No Plaxico means the Giants need someone who can stretch the field. Nicks is a big target who really came on in the second half of last season.
Tennessee Titians Robert Ayers DE; He's a hometown boy, with a big frame. Ayers can fit in on a very talented Titans defensive line.
Arizona Cardinals Michael Johnson; Johnson's stock has jumped up and down since last offseason. However when he puts his mind to it he is a very talented defensive end. If the Cardinals can pick him up with the 31st pick he would be a solid investment.
Pittsburgh Steelers Max Unger C; His experience playing all the positions on the offensive line means he can be an apprentice for a season before moving to his natural position of center.