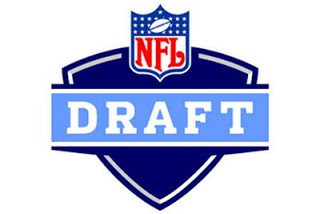 With the NFL Draft complete it's time to begin the process of seconding guessing. The first step of this process begins with us handing out our grades for each team. Some of the grades may shock you, while others will be clear no brainers. Check and see how your favorite NFL team faired.
AFC East:
Buffalo Bills: The Bills picked up Aaron Maybin with their first pick and I love that move. Maybin has great speed coming off the ball and he will be able to upgrade a spotty Buffalo Bills defense. The other reason for the Bills good grade is because they picked up a guard and a center to help bolster their offensive line. The Bills would have received a higher grade if they had addressed their issue at offensive tackle rather than picking up a center, but this is a good start.
Grade B
Miami Dolphins: A lot of people gave the Dolphins a hard time about their draft, but I loved what they accomplished this weekend. As anyone who reads this blog knows, I am a huge Pat White fan, and the Dolphins getting their hands on him early was a great idea. White can be a legitimate quarterback in the NFL, and he will be a stud in their Wildcat formation. His ability to throw the deep ball (better than Pennington) makes him a huge threat anywhere in the backfield.
The other major pickup for the Dolphins was Vontae Davis. Vontae is a talented defensive back who became bored with playing last season. Davis dropped because of his off the field issues but if Parcells and company can motivate him he will be a stud in the Dolphins secondary.
Grade B+
New England Patriots: Once again the Patriots were busy on draft day, making moves and acquiring picks. Once again it appears that the Patriots draft strategy is prepared to pay off. One pick that stood out for me was the acquisition of Brandon Tate. Granted he has some off the field issues and a knee surgery, but Tate is s stud receiver.
Grade B +
New York Jets: The Jets were very busy on Saturday and Sunday, and all their hard work paid, or at least it should. Many believe that Mark Sanchez was the best quarterback prospect available in the NFL draft, there is some truth to that. While I do not believe Sanchez to have the immediate success Flacco or Ryan experienced last season, I do believe he will mature into a solid starter.
The other big move on the weekend Jets pulled off was trading up to bring in Iowa rugby Shonn Greene. Mark Sanchez and Shonn Greene could prove to be a great backfield that will grow together and create the backbone of the Jets Franchise.
Grade A
NFC East:
Dallas Cowboys: The Cowboys tied a NFL record with 12 draft picks over the weekend. Too bad those picks were largely marginal. The Cowboys traded away their top picks to acquire Roy Williams last season. So a large part of this year's draft success will be based on Williams's success or lack thereof during his stint as a number one wide out.
The other picks the Cowboys made were decent but nothing special. Picking up a kicker when Nick Folk is one of the most reliable kickers in the league was simply stupid.
Grade C-
New York Giants: The Giants had one major issue to address, that was at the receiver position. They also made the smart move by picking up North Carolina's Hakeem Nicks. Yes they could have made a trade for the Brown Braylon Edwards, but he has suspect hands and more downside. In addition, The Giants also picked up Ramses Barden of Cal-Poly who could be a great sleeper pick as a receiver.
The other great pickup New York made was drafting linebacker Clint Sintim out of the University of Virginia. Sintim led the nation in sacks from the linebacker position. Sintim fits the Giants mold of versatile athletic pass rushers who can stand up or put their hand in the dirt.
Grade B+
Philadelphia Eagles: The Eagles actually got it right this time around in the NFL Draft. Jeremy Maclin is an absolute steal, and it was an absolute steal that he fell that far in draft. Maclin is a much better version of DeSean Jackson who the Eagles drafted last season. His talent both as a wide out and a special teamer is something special.
In addition Philadelphia also picked up Virginia Tech's Victor Harris. He clocked a little slow in the combine, but he was an absolute stud while playing for the Hokies. Harris is one of those players that just have a knack for finding the ball while it's in the air. He is also another stud on special teams.
Grade B+
Washington Redskins: The Redskins began the draft on a hot streak by picking up Brian Orakpo who will be a major player on the Washington defensive line. Unfortunately for the Redskins the rest of their draft was pretty much pedestrian. Despite addressing one of the team needs Washington allowed too many of their other needs to go unattended.
Grade C+
AFC North
Baltimore Ravens: The Ravens had another solid draft this year. Granted they did not find another Joe Flacco, but they did find some solid gems. Michael Oher is talented and he can become the same staple on the offensive line that Jonathan Ogden was for so many years for the Ravens.
Grade B-
Cincinnati Bengals: The Bengals may have put together their best NFL Draft in team history. Andre Smith has plenty of question marks around him due to his bizarre off the field behavior in recent months. If he can keep his head straight (which can be difficult in Cincinnati) he will become an anchor on what has been an average offensive line.
The Bengals also scored points for signing hard hitting linebacker Rey Maualuga. Rey will add a needed toughness the Bengals defense. Finally Cincinnati lucked out by drafting Chase Coffman out of Missouri. Chase is recovering from a broken foot but he is Pro-Bowl caliber tight end waiting just waiting to burst out.
Grade A
Cleveland Browns: To be honest I have no idea what Eric Mangini was doing with his new team. Allowing the Jets to move up and take the number five pick was a horrible idea. The Browns best pick up over the weekend was Cal center Alex Mack. Other than that Cleveland really dropped the ball on this year's draft.
Grade C-
Pittsburgh Steelers: Steeler nation will give me a hard time for giving their team such a low mark on their draft grade, but please try to hear me out on this one. It was not that Pittsburgh did anything wrong with their picks, just failed to do anything special over the weekend. The Steelers did not have many needs entering the weekend, so there was not much of a need to spend money wildly. Frankly the Steelers kind of slept through the draft and they will still come out unscathed on the other side.
Grade C
NFC North
Chicago Bears: Overall the Bears were relatively quiet over the weekend, and that is not a bad thing. Chicago made their noise a few weeks back when they brought Jay Cutler into the fold. The only need Chicago needed to address their need at wide receiver. They did exactly that with the 99th pick by drafting Oklahoma receiver Juaquin Iglesais. He has the chance to mature into a solid reliable target for the Bears new signal caller.
Grade B-
Detroit Lions: I really want to like what the Lions did in this year's draft. For once you can actually see some logic to the madness in the Lions organization. However, drafting Matt Stafford with the number one overall pick is holding me back from declaring the 2009 NFL Draft a success story for the Lions. The Lions sunk a lot of money into a shaky quarterback who under produced his entire colligate career. The busted pick could end up sinking what was a good draft by Detroit.
Grade B
Green Bay Packers: The Packers had a horrible defense last season, and now they are making the move to a 3-4 scheme. In order to run that defensive scheme properly the Packers needed a big run stopper in the middle. They got exactly that when they drafted B. J. Raji. The big tackle from Boston College can get up field and he eats up space. All in all he is a very good choice as a defensive tackle.
The downside of the Packers draft was they failed to get any other notable picks in the draft. The Packers pretty much wasted the latter half of their picks on guys who will not make the final roster.
Grade C+
Minnesota Vikings: The Vikings were the chosen team to take a chance and pick up Percy Harvin. There is no doubt the Florida receiver has a ton of potential but he also has a ton of potential to be a complete bust due to his off the field problems only time will tell.
I also admire Minnesota picking up mammoth tackle Phil Loadholt. The big 6'8 336 pound tackle can anchor down any offensive line.
Grade C+
AFC South
Houston Texans: Once again the Texans seemed to be drafting to build their defense. At this rate they should one of the best defenses in the league within the next few seasons. The Texans drafted Brian Cushing as well as defensive end Conner Barwin. Both of whom are workout fiends and phenomenal athletes. I would have liked to have seen Houston pick up a defensive back but nonetheless they still made out well.
Grade B+
Indianapolis Colts: The Colts raked in a big hall in the NFL Draft when they picked up UConn running back Donald Brown. He will instantly jumpstart the Colts running game. Brown will help to get their once record setting offense back on track.
Grade B
Jacksonville Jaguars: The Jaguars brought in the kings haul by drafting two stud offensive linemen who have the potential to become the anchors of their offensive line. Eugene Monroe will be a Pro-Bowl tackle and Arizona's Eben Britton has the ability to become a mainstay at the opposite tackle position.
Grade B+
Tennessee Titians: Tennessee once again went to the well for a receiver in the draft and they found one in Kenny Britt. Some teams soured on Britt due to the number of dropped passes he had, however I believe he will be a solid producer under Jeff Fisher.
Grade C-
NFC South
Atlanta Falcons: A week before the draft the biggest need on the Falcons roster was the tight end position. When Atlanta made the move to pick up Tony Gonzalez their entire draft strategy changed. As a result the Falcons loaded up on defense. Peria Jerry is a big defensive tackle coming out of Ole Miss and he will be a solid contributor right away. But in the end this draft should be remembered for the second round draft pick spent on acquiring Tony Gonzalez.
Grade B+
Carolina Panthers: The Panthers were willing to part with a first round draft pick with the goal of being able to pick up a quality player. For their efforts Carolina drafted Florida State defensive end Everette Brown. He will be a stud player that will help to rebuild what was once a strong Panthers defensive line.
The Panthers also drafted a fullback in the fourth round. This is very important for a team that showcased a punishing rushing game during the second half of last season. All in all I am very proud of what Carolina accomplished in this year's draft.
Grade B+
New Orleans Saints: New Orleans had what I would call a quiet draft, but I am very happy with the moves they made. The Saints picked up Ohio State defensive back Malcolm Jenkins. While it is still unclear if Jenkins will play corner or safety, what is known is he will be a playmaker. I also commend the Saints for spending nearly an hour and a half attempting to move back into the first round to draft Beanie Wells. Despite failing to pull the trade off, it shows that New Orleans understood their needs.
Grade B-
Tampa Bay Buccaneers: The Bucs made the most interesting move of the draft by trading up and selecting Kansas State quarterback Josh Freeman. Granted I believe that Freeman will be a solid producer from the quarterback position but that day may take a while before it arrives. The problem I have with the Tampa Bay draft is they traded up to draft Freeman. Trading away their future while they still have serviceable quarterbacks on the roster is not my idea of a sound move.
Grade D+
AFC West
Denver Broncos: The Broncos had what I like to call a bittersweet draft. They were unable to address their biggest need at the quarterback position. Losing Jay Cutler will hurt them. But I am very happy with the drafting of Knowshon Moreno. It also helps that the Chargers were looking to sign Moreno and the Broncos were able to steal him away.
With their later draft picks the Broncos looked to help out their defense which was horrid last season. Cornerback Alphonso Smith will be a starter as a rookie and give them some strength in their secondary.
Grade B
Kansas City Chiefs: Scott Pioli was considered a genus for the work he did with the New England Patriots. I won't crown him just yet for his efforts in this year's draft but Pioli guided the Chiefs to a solid draft. Picking up defensive end Tyson Evans was a solid pickup. He can be a staple on the D-Line beside former LSU teammate Glen Dorsey for years to come. He continues the defensive trend in the later rounds.
Grade B
Oakland Raiders: Once again the Raiders came out and blew their draft. It appears that Al Davis is alive and well and calling the shots at Raiders HQ. Oakland used their first pick to sign Maryland receiver Darrius Hayward-Bey. Granted it is not surprising that the Raiders went for speed with their first pick, but Hayward-Bey was the weakest of the top prospect receivers. He is more of a track star than a football player, displaying great speed but little football instinct or toughness.
The Raiders were not done shocking the draft, they soon found themselves making trades and picking up safety Michael Mitchell and linebacker Matt Shaughnessy both of whom were slipping down draft charts across the league.
Grade D
San Diego Chargers: I like that the Chargers addressed a need and drafted defensive end Larry English. I just worry that they may have picked him up too early. Chances are English would have fallen to the late first round or most likely the second round if he was left alone.
Grade C+
NFC West
Arizona Cardinals: The move the Cardinals didn't make may be the biggest surprise of the weekend. Arizona failed to move disgruntled receiver Anquan Bolden, and now that will be a problem as the season approaches. Other than that, I was happy with what the Cardinals accomplished over the weekend. They were able to get Beanie Wells who will serve as a good back to spell Tim Hightower.
Grade B
St. Louis Rams: The Rams went the safe route with all of their early picks, and it should pay off for them. They used the second pick in the draft to sign offensive lineman Jason Smith. He has all the tools to turn into an anchor at the left tackle position where he will shine. I especially like the Rams later picks in the draft. They passed on USC linebacker Rey Maualuga to sign James Laurinaitis out of Ohio State instead. Laurinaitis is a two you captain for the Buckeyes and he is a proven leader.
Grade B
San Francisco 49'ers: I like what San Fran accomplished with their draft picks. Michael Crabtree got a sudden raw deal in the last few days after being labeled a diva. I never saw any indications of that while he was in school, and it is doubtful that head coach Mike Singletary would take a risk on a head case player.
The 49'ers also made an interesting move by drafting Ball State quarterback Nate Davis in the fifth round. Davis showed well in the combine, and he threw the hell out of the ball while in college. Judging from the current lineup of quarterbacks available in San Fran; you can expect Davis to at least have a fighting chance to win the starting job come August.
Grade B+
Seattle Seahawks: Seattle picked up the safest pick in the draft when they signed Aaron Curry out of Wake Forest. There is no doubt he will be a leader on defense and a staple to build around. The Seahawks also did well by picking up center Max Unger as well. Seattle desperately needs to rebuild what was once a strong offensive line.
Grade B-