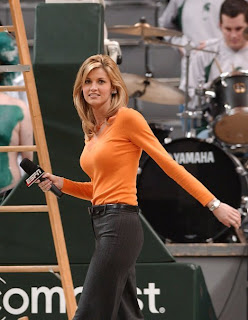 Alright so it's been a while since we've done this but with some spring and summer like temperatures in the air it seems like an appropriate time to bring back Ms. Andrews and your hot cohorts.
These photos have been making their way around the internet today, and they were simply too good to pass up. It appears there is a reason that USC is always able to land the big name football recruits. Sure Pete Carroll is a great coach to play for and there is the tradition and L.A. is not a bad town to go to college in. But it looks like USC has another ace up their sleeve to lure recruits in when they come to town.
Check out this pool party that USC throws for their visiting recruits. Included is water, sun, pizza and yeah USC Cheerleaders frolicing around in bikinis. Seriously who is going to turn that one down?