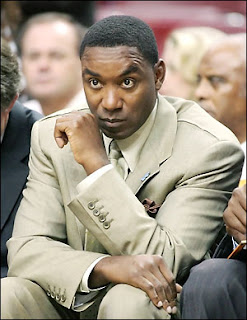 Issiah Thomas has left a trail of destruction virtually everywhere he has gone; Indiana, Toronto, New York, it really does not matter. Pick a team or an organization and Issiah Thomas will ruin it. Now appears that torching the reputation of NBA teams is no longer enough of a challenge for Thomas. Now Issiah Thomas has moved on to destroying college basketball programs. According to FoxSports.com, Issiah Thomas will be announced as the new head coach for Florida International University on Wednesday afternoon.
Thomas, 47, will replace Sergio Rouco — who was fired on Monday after a 55-94 record in five years at the Sun Belt Conference school.
Sources told FOXSports.com that Thomas is intrigued by the opportunity for a fresh start after the way everything went down in New York and also has been informed that FIU will make a significant commitment to its athletic programs.
Thomas has, according to one source, been intrigued by the opportunity to coach in college for years and has spoken with several of his close friends about it.
All I can say is this could and probably will prove to be disastrous for both Thomas and FIU. Going on track record alone, Issiah Thomas has trouble avoiding scandal and corruption. The loose and vague rules of the NCAA could be a marvelous playground for the former All Star.