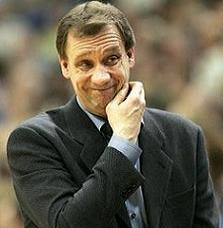 Even though the season has not ended, the Washington Wizards have wasted no time in finding someone to replace interim head coach Ed Tapscott. According to various media outlets the Washington Wizards are turning to former Detroit Pistons head coach Flip Saunders to take the Zards into the 2009/10 season.
According to sources, Washington Wizards owners Abe Polin has given the go ahead to team president Ernie Grunfeld to hire Flip Saunders. It is expected that an official announcement will be made next week. That will come at the culmination of the Wizards season, as well as the end of the post season meetings that Grunfeld must attend at the end of the week.
Saunders will be taking over the worst team in the Eastern Conference. The Wizards are 19-62 after Monday night's home loss to Toronto and need to win their final game at Boston to avoid matching the franchise mark for worst record over an 82-game season.
As far as Flip Saunders is concerned he is a well seasoned coach. Saunders has coached for 13 NBA seasons, 10 with Minnesota and three with Detroit, with a career record of 587-396. Eleven of those teams made the playoffs, and he led the Pistons to three consecutive trips to the Eastern Conference finals from 2006 to 2008.
In taking over the Wizards Flip Saunders will have plety of talent to work with. Washington recetly locked up Gilbert Arenas to a longterm deal. Combine that with Jamison and Butler and a possible number one draft pick and the Washington Wizards could have a team that can compete very soon. However, only time will tell.