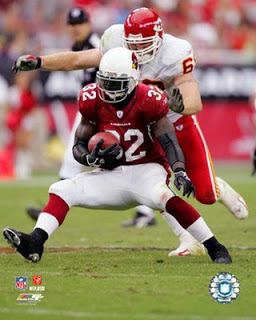 In what really comes as no surprise to anyone who follows the NFL, the Arizona Cardinals have confirmed they have released Pro-Bowl running back
Edgerrin James. This comes just a few days after the Cardinals used their first round draft pick to pick up Ohio State running back Chris Beanie Wells.
James and the Cardinals have been at odds with each other since the midway point of last season. Edgerrin saw his carries per game drop significantly as they season progressed, and he was willing to let any and everyone know he was not happy. Edgerrin James was entering the final year of his contract with the Arizona Cardinals and he had ask the team to either be traded or let go so he could persue another team.
At 30 years of age, it is possible that Edgerrin James still has some good years of football left in him. James made a name for himself in the NFL while playing with the Indianapolis Colts. However, like so many other players his time out in the desert of Arizona has not been kind to him. Where James will go no could be an interesing question. While he may not be a feature back anymore there is no doubt he could help any team that is looking for an extra pop coming out of their backfield.