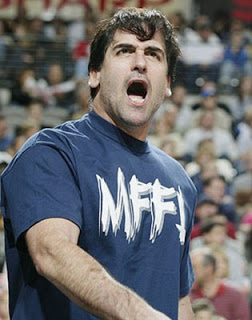 So Twitter is the new social media craze that is sweeping the United States and the rest of the world for that matter. While
bloggers
have utilized Twitter for almost three years now, many of the sports figures that those
bloggers
follow are now getting involved in the Twitter craze. By now many of us have seen the the many Tweets of
Shaq
, who seems to be the Godfather of athletes on Twitter. Well as of today, another popular NBA personality has gotten bit by the Twitter bug, and this time it bit back.
Dallas Mavericks owner Mark Cuban was fined $25,000 by the NBA Monday morning because of a tweet he left earlier this week. Thanks to Twitter, Cuban has found a new medium to speak with his fans and more importantly
criticize
NBA officials.
unfortunately
for Cuban, David Stern's office has eyes everywhere, and that includes social media.
Cuban used Twitter to complain after Friday night's game that Denver's J.R. Smith was not called for coming off the bench to taunt Antoine Wright after he missed a shot near the Nuggets bench.
Cuban said in another posting Sunday that he "can't say no one makes money from twitter now. the nba does."
And people say spending time on Twitter doesn't pay off. Once again David Stern is proving to be smarter than the rest of us.