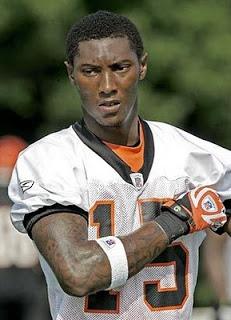 From time to time we have to provide sad news to our readers out there, and
unfortunately
today is one of those days. It is with sadness in our hearts that we announce Cincinnati Bengals wide receiver Chris Henry has passed away this morning due to the injuries suffered in a car accident yesterday evening in Charlotte North Carolina.
According to reports Henry was involved in some sort of a domestic dispute with his fiance yesterday and fell from the back of a pickup truck. He was said to be in serious condition yesterday evening. Doctors announced Henry's death this morning at 6:36 am, and that was confirmed by Charlotte police at 10 am.
Our thoughts and prayers go out to Chris Henry's family, and the Cincinnati Bengals.