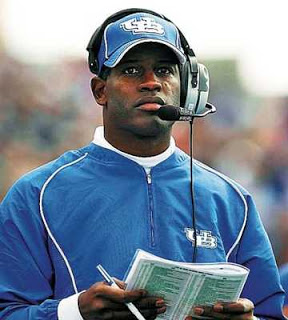 The Kansas Jayhawks wasted no time in replacing Mark Mangino. It is confirmed that Kansas has agreed to terms with Turner Gill to become the new head coach of the Jayhawks football team.
This is not Turner's first time in the Big 12, he was a star quarterback for the Nebraska Cornhuskers during the 80's. He was also an assistant on the Nebraska coaching staff during the 90's where he helped to lead the Cornhuskers to a National Title under Tom Osborne
As a head coach Gill turned around Buffalo guiding them to a 20-30 record in his time up north. Gill is also responsible for taking Buffalo to a bowl game as well as racking up coach of the year honors in 2007 and 2008. Not bad for a football program that spent the bulk of it's existence as the powder puff on most teams schedules.
The Kansas Jayhawks are not in complete disarray, they are only two years removed from an appearance in the Orange Bowl. However, the 2009 campaign was less than successful, and the final month of the season was scared thanks to scandal surrounding coach Mangino.
With Turner Gill coming to Kansas it just helps to strengthen the already re surging Big 12 North.