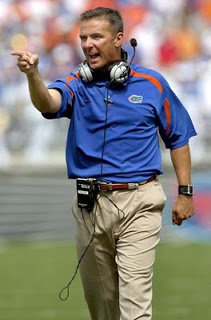 According the the Florida Gators official website, head football coach Urban Meyer is prepared to step down. Obviously this comes as a bombshell. According to a press release from the University of Florida Urban Meyer is stepping down to focus on his health.
"I have given my heart and soul to coaching college football and mentoring young men for the last 24-plus years and I have dedicated most of my waking moments the last five years to the Gator football program," he said in a report on the school's athletic Web site Saturday. "I have ignored my health for years, but recent developments have forced me to re-evaluate my priorities of faith and family." - Urban Meyer
Sources are saying that Meyer's break is wanted to as a result of the mental and emotional toll coaching has taken on him and it is not a serious/critical condition. However, for what it's worth we've also had sources say it is a form of cancer, so take what you wan from that.
All other details are still in the air at this time. Urban Meyer will coach his final game in at the Sugar Bowl.
As details continue to emerge, Myer's has explained part of his reasoning
in this interview
with the New York Times.