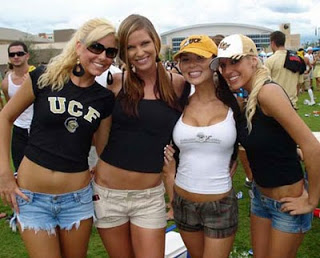 The 2009 College Bowl Season is ready to kick off and there is plenty to talk about. There are 33 bowl games in total (yeah that's too many) and Walker Sports has predictions, sports lines and recaps of every game. Let's get things started with the opening weekend games.


New Mexico Bowl-Fresno State vs. Wyoming:
The best part of this game is you will get to see one of the best players in the country, and I can almost promise you that you did not watch him all season. Fresno State running back Ryan Mathews is a stud. He led the nation in yards per game at just over 151 yards per. Mathews is the epitome of consistency in the backfield.

Wyoming was 4-8 last season and snuck their way into a bowl game this year. If you look at their offensive stats 86th in the country in rushing yards and 103rd in passing stats. Needless to say this is a team that struggles to put points on the board.

The line on this game has ground to 11.5 points and it could shift to 12 before the weekend. For what it's worth Fresno State is 4-5 against the Mountain West conference, however I don't think that will be a factor in this game. Fresno can easily handle Wyoming and cover the spread.


Winner: Fresno State and they cover the spread.

St. Petersburg Bowl-UCF vs. Rutgers:
It still comes across as odd to see Rutgers in a bowl game, but for that matter it's still new to see UCF in a bowl as well. Nonetheless both teams have done a great job rebuilding their programs. The key to this game will be the play of UCF quarterback Brett Hodges. The Wake Forest transfer completed 61% of his passes and tossed 15 touchdowns. If he can guide UCF down the field, they will be able to keep pace with a Rutgers scheme that has slowed down significantly this season.

The spread on this game is favoring Rutgers by 2.5 points which for a bowl game is nearly a pick'em. Rutgers has struggled putting points on the board this season, and this is basically a home game for UCF. For those reasons I like UCF to pull the upset.


Winner: UCF wins, thus covering the spread.

New Orleans Bowl-Southern Miss vs. Middle Tennessee State:
This could prove to be one of the most interesting games of the bowl season. I know, Southern Miss and Middle Tennessee State don't exactly make you think quality college football, but these are two programs that can score points, and they can score them in bunches.

Tony Franklin found new life post Auburn at Middle Tennessee State. He was once thought to be one of the great offensive minds in college football, but his spread offense failed down at Auburn and cost Tommy Tuberville his job. Southern Miss has put up some impressive performances this season including a come from behind victory against Virginia (guess that's not too impressive).

The spread for this game is sitting at 3.5 points and favors Southern Miss. While Tony Franklin has done a lot to redeem the Middle Tennessee State program and inject life into the offense, the defense is still lacking. They will struggle to contain a high powered Southern Miss attack. Expect Southern Miss to win the game and cover the spread.


Winner: Southern Miss wins and covers the spread. Also take the over just to be safe.