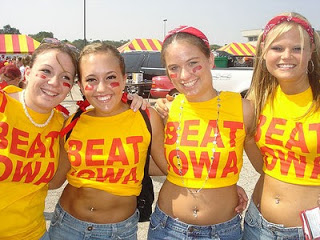 New Year's
Eve means lots of drinking and fun times, but it also means some great college football. Of course we are all over these predictions, and this is no difference.
Armed Forces Bowl- Air Force vs. Houston:
Get your popcorn ready for this one. This may be the match up that puts the Armed Forces Bowl on the map and for good reason. The nations best passing offense taking on the best passing defense in the land, as I always say, styles make fights.
Houston is looking for a repeat of last years Armed Forces Bowl where they knocked off Air Force 34-28. This year the Cougars boast one of the most explosive passing attacks I've ever seen. Quarterback Case Keenum is averaging 450 yards passing a game. Last year Keenum was able to knife through the Air Force defense, and guided the Cougars to a 1-1 record against Air Force. One thing is for sure, if Air Force does not put pressure on Keenum and make him move and miss targets they will be in for a long day. Even if they bring the heat against Houston, Case Keenum will continue to toss the ball down field and look for opportunities.
Air Force has rebuilt their defense from a year ago. They moved from 50th in the country in pass defense to first. Troy Calhoun's bunch will be put to the test in the Armed Forces Bowl. On the offensive side of the ball Air Force is no slouch itself. Their option attack chews up chunks of yards at a time is good enough to place Air Force 3rd in the nation in rushing yards per game with 273 yards ppg. If Air Force really wants to stop Case Keenum and company that dominating rushing attack may be their best weapon. Houston cannot score if they do not have the ball in hand.
The spread on this game favors Houston by 4 points which is a very good spread. I won't lie this game is very difficult to call, and truth be told I would stay away from it when placing bets. That being said, we don't do that here, so I have to pick a winner.
Winner: Houston's offense is too good and wins the game and covers the spread.
Sun Bowl-Stanford vs. Oklahoma:
It's not very often that you see Oklahoma playing in a bowl game before New Year's but from time to time, the Sooners end up in this situation. Obviously everyone knows of the struggles Bob Stoop's team experienced this season thanks to the injuries Sam Bradford sustained early in the season. While the Sooners offense has struggled this season, their defense is one of the best in the country ranking 7th in overall defense. Oklahoma held Oklahoma State to just 65 yards on the ground when they met earlier this season. The Sooners will need to flex their muscle on defense if they want to keep Stanford's Toby Gerhart in check. Also at stake in this game is head coach Bob Stoop's reputation. Stoops has lost three straight bowl games since their last victory over Oregon in the Holiday Bowl.
The Stanford Cardinals are coming off of one of their best campaigns in school history. Their 8-4 record marks their first winning season since 2001. The secret to Stanford's success is Toby Gerhart, the senior back led the country in rushing this season (1,736 yrds) and touchdowns (26 tds). For his efforts, Gerhart nearly won the Heisman, and you can rest assured he has more left in the tank. Thanks to Toby Gerhart's efforts, head coach Jim Harbaugh was able to sign a contract extension for the next three years. Perhaps the wild card in this whole situation is quarterback Andrew Luck. For as good as Gerhart is as a back, Luck has proven himself as one of the great freshmen QB's. He will have to make plays with his arm in order to keep the Sooners defense honest, and help open up lanes for Gerhart.
The spread is sitting at 8 points and favoring Oklahoma. This is kind of surprising considering that Oklahoma enters the game unranked. A big part of this line is due to the reputation Oklahoma has.
Winner: Stanford covers the spread, but Oklahoma wins the game.
Texas Bowl: Navy vs. Missouri:
The Missouri Tigers have had an up and down season. They came out the gate 4-0 but then dropped three consecutive games to Nebraska, Oklahoma State and Texas, the Big 12 will do that to a team. Despite that, Missouri bounced back and find themselves in the state of Texas for a bowl game yet again. The Tigers averaged 285 yards ppg in the air which is impressive considering they had to replace Chase Daniels this season. When the Tigers are winning they are scoring points, they average 36 points a game when they won four of their final five games. If they can get the passing game rolling, they have the potential to blow the Midshipmen out of the water.
Navy finds themselves in a bowl game yet again, as they are the cream of the crop when it comes to the service academy's (sorry Air Force). Once again Navy led the country in rushing thanks to their triple option offense. The option could prove to be the difference maker in this game. Not only is it effective in getting Navy on the score board, but it can keep the high powered Missouri passing attack on the sidelines and render it useless.
The spread favors Missouri by 7 points, and I like this a lot. Navy is a hell of a team, but once again the size and overall athletic ability of their athletes will be shown when they play a solid Big 12 team.
Winner: Missouri wins the game and covers the spread.
Insight Bowl-Iowa State vs. Minnesota:
Who would have thought Iowa State would lose a head coach and end up experiencing their best season in four years, but that's exactly what Iowa State is doing. On the field the Cyclones really are not terribly impressive. What they do have is a ton of enthusiasm and a
firy first year coach in Paul Rhoades
. Iowa State has waited for this moment for a long time and you can believe the players understand exactly how important this is.
The Minnesota Gophers find themselves in very familiar territory. They are playing in their third Insight Bowl in fourth years. For the most part the Gophers are a middle of the line team. With a 6-6 record they are one of those teams, that frankly I hate seeing in bowl games. They finished last in the Big 10 in scoring averaging 21 points a game, and they are very turnover prone.
The spread favors Minnesota by 3.5 points which is insane. Iowa State has everything to play for and you can believe they will put it all on the line just to prove a point.
Winner: Iowa State pulls the upset and wins the game.
Chick-Fil-A Bowl-Tennessee vs. Virginia Tech:
Lane Kiffin has brought life back to the Tennessee Volunteers, depending on who you are you may or may not like that. Along with a renewed sense of excitement, Kiffin has also brought plenty of controversy to the Vols. Nonetheless the young team appears able to separate those distractions and play some good football. Much like in years past, there's plenty of talent on the Tennessee football team, it's just a matter of can their coach keep everything together, and stay out of the way enough to allow the players to do their thing?
The Virginia Tech Hokies find themselves in their second home Atlanta Georgia. This is the third time the Hokies have made to the trip to Atlanta this season. The previous two trips yielded loses to Alabama and Georgia Tech. The lasting impression of this season for Virginia Tech will be the emergence of quarterback Tyrod Taylor who has truly grown into his role as the starting quarterback and become a reliable pocket passer. Joining Taylor in the backfield is Ryan Williams the freshman RB totaled 19 touchdowns and is a load to bring down when coming out the backfield.
The spread only favors Virginia Tech by 4.5 points which is fair enough. Both teams are pretty evenly matched. The Peach Bowl (Yes I still call it that) has been a house of horrors for the Vols in the past, and the trend will continue this year.
Winner: Virginia Tech wins and covers the spread.