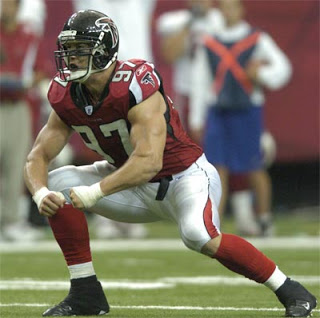 Seattle Seahawks defensive end Patrick Kerney announced today that he was retiring form the NFL after 11 seasons. Kerney split his 11 seasons between the Atlanta Falcons and finished his final few season as a Pro-Bowl defender for the Seattle Seahawks.
For the majority of his career Kerney went under the radar. He is best known for being your hustle defensive player. Never one to overpower with his size, Kerney relied on his skills and technique to cause havoc in the backfield.
Amongst his teammates, Kerney was best known for the exotic measures he took to heal and recover his body. He spent many hours each week inside a $1,2000 hyperbaric chamber and sprawled on silver-lined "earthing" sheets that are purported to speed the recovery of tissues.
Immediately before regular-season games, he would amp up the settings on the electric stimulation machine he used in the locker room to fire up his adrenal glands.
Kind of ironic that injuries would be the cause of his retirement.
Despite only being 33 years old, Kerney should be financially stable. He is recently engaged, and signed a big contract with the Seahawks in 2007 that guaranteed him $19.5 million.