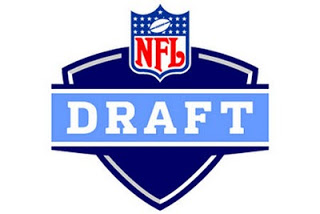 The NFL Draft is is just a few days away many NFL teams are hoping to find the missing piece that will put them over the edge. Some teams have already addressed their needs via free agency, as a result it's time for us to change our mock draft. With the draft so close, this will likely be our final mock draft heading into the draft.




St. Louis Rams Sam Bradford, QB:
The Oklahoma QB has solidified himself as the top quarterback available in this year's draft. The Lions got their lineman with the previous two years drafts and now it's time to get their franchise quarterback.
Detroit Lions Ndamukung Suh, DT:
Suh is a can't miss draft pick. The Lions have made a lot of strides to build their defense, and Suh is a player who can will be a long time fixture on the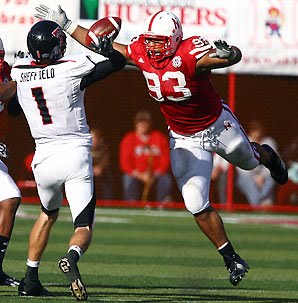 defensive line.
Tampa Bay Buccaneers Gerald McCoy, DT:
The debate between McCoy and Suh will rage on till Thursday night. Nonetheless, Gerald McCoy gives the Bucs a rock in the middle of their lineup.
Washington Redskins Russel Okung, OT:
Bringing in McNabb ends all questions about the Redskins using their top pick on a quarterback. Now the Skins needs to protect their franchise QB. Okung is the best left tackle who is ready to play right now.
Kansas City Chiefs Bryan Buluga, OT:
The Chiefs can go in a lot of directions with this pick, but they need to sure up their offensive line if they want to make any serious progress in the 2010 season. Bryan Buluga is talented tackle. He can slot in right away and thanks to great coaching in college you know he is ready to play.
Seattle Seahawks Trent Williams, OT:
The Seahawks ahve two first round picks which give them plenty of options. Williams most likely end up being the best offensive lineman available in this draft. Trent Williams can fill the holes left in the Seattle offensive line from the mass exodus of 2008.
Cleveland Browns Eric Berry, DB:
The Browns wanted to get a defensive back with their first round draft pick. If Eric Berry can fall into the Browns lap they would be beyond foolish for not taking him.
Oakland Raiders Anthony Davis, OT:
Al Davis loves the freak show athletes and Anthony Davis is the best example of a freak athlete in this year's draft. Sure he has plenty of downside, but I doubt that will be enough to keep the Raiders away from the big man.
Buffalo Bills J
immy Clausen, QB:
To be honest the Bills need a new team. They can begin the rebuild process by bringing in Clausen. For what it's worth Clausen looked good in his Pro Day workout and he has answered all the questions thrown at him to this point. Now one is left, can he play?
Jacksonville Jaguars Rolando McClain, LB:
McClain has the potential to be one of those special linebackers. Dare I even say Ray Lewis potential. He has the knowledge of the game to be the same type of field general Ray is for the Ravens.
Denver Broncos Dez
Bryant, WR:
If there is one pick I am not sure of it is this one. The Broncos traded away Brandon Marshall earlier this week and have a glaring need at receiver. Now the question becomes, do the Broncos want another disgruntled receiver on their team? The more I see of Dez Bryant the more I worry about his ability to be an elite NFL receiver.
Miami Dolphins Sergio Kindle LB:
The Dolphins pass rush needs a shot in the arm and Sergio Kindle can provide that injection. While Kindle is not the complete linebacker he is a great edge pass rusher.
San Francisco 49'ers Joe Haden, DB:
Joe Haden is a solid defensive back who can play multiple positions. Bringing him in gives the 49'ers a lock down corner.
Seattle Seahawks CJ Spiller, RB:
With their second pick in the first round the Seahawks will acquire the type of scat back that new head coach Pete Carroll loves. Spiller can provide an explosive burst out of the backfield, and he is solid in the return game.
New York Giants Derrick Morgan, DE:
The Giants rotate up to 8 defensive linemen during a game. Morgan gives them yet another weapon with his ability to get to the quarterback.
Tennessee Titians Dan Williams, DT:
The Titians missed Albert Haynesworth last season. While there are rumors they could bring the big man back, drafting a talented defensive tackle who possess a positive attitude seems like a much better option than bringing in Big Albert.
San Francisco 49'ers Mike Iupati, OT:
Mike Singletary wants to run the ball, and bringing in Iupati gives them a reliable tackle to build around.
Pittsburgh Steelers Kyle Wilson, DB:
The Steelers secondary was torched last season on several occasions. Kyle Wilson is not the biggest or the fastest DB available, but he certainly gets the job done.
Atlanta Falcons Brandon Graham, DE:
The Falcons have to find some sort of a pa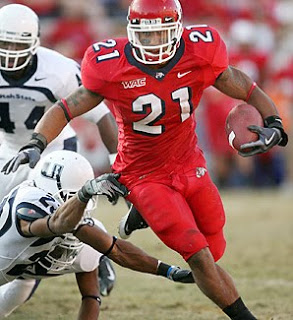 ss rush if they want to climb back to the top of the NFC South.
Houston Texans Ryan Mathews, RB:
The Texans went through plenty of running backs last season and none of them really worked. Ryan Mathews is a hard runner who can maintain a heavy workload.
Cincinnati Bengals Jermaine Gresham, TE:
Sure Gresham has not played in a year, but he is a special talent. If his legs are completely healed he will give the Bengals a great threat in their passing game by running the seams of the field.
New England Patriots Jared Odrick, DT:
Ordrick is a versatile defensive lineman who can play 3/4 or 4/3. The Patriots will have a good time moving him around and confusing opposing teams.
Green Bay Packers Maurkice Pouncy, C/G:
It's time for the Packers to rebuild their offensive line. Sure the Packers O Line played better in the second half of the season, but there is still plenty of work to be done.
Philadelphia Eagles Sean Weatherspoon, LB:
I love the way Weatherspoon has developed over the combine season. He can make an immediate impact on what has become a shaky Philadelphia Eagles defense.
Baltimore Ravens Terrence Cody, DT:
It's time for the Ravens to revamp their interior defense. Terrence Cody is not the best prospect and he could eat himself out of the league within a few seasons. However, if he gets on a training regimen he could become a scary force especially playing next to Ngata.
Arizona Cardinals Jerry Hughes, LB:
There's no question that the Cardinals need help with their defense. The question is will Jerry Hughes be able to make enough of an impact?
Dallas Cowboys Charles Brown, OT:
It's past time for the Cowboys to begin rebuilding their offensive line. Charles Brown has a lot of question marks surrounding him due to his lack of playing time at USC. However, he will not have to come in and start right away in Dallas.
San Diego Chargers Devin McCourty, CB:
The Chargers have other needs, especially in their backfield. But there are plenty of available running backs to draft in the second or third round. With McCourty the Cha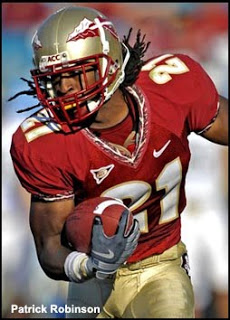 rgers get a reliable corner who can replace some of the talent lost via free agency.
New York Jets Brian Pierce, DT:
Rex Ryan loves defense and Brian Pierce is a big space eater. Kind of like Rex.
Minnesota Vikings Patrick Robinson, DB:
Thanks to plenty of injuries in the secondary last year the Vikings now have to use a high draft pick on a corner.
Indianapolis Colts Kareem Jackson, DB:
It's time for the Colts to reload in the secondary. In Kareem Jackson, Indy gets a corner with sound fundamentals and who understands the game.
New Orleans Saints Ricky Sapp, OLB:
Sapp has fallen hard thanks to some horrible workouts, but there is a chance the Saints to reach for him here.