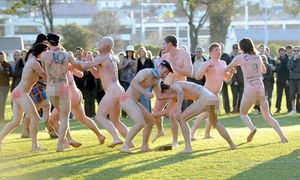 Once again we have to give a big shout out to our friends over at UR7s.com for doing the research and finding this tournament. I think we have found our next Walker Sports summer tour. We will be holding open auditions for our co'ed team beginning in May.
A UK Rugby club in Cambridgeshire has this week confirmed they will be hosting the first naked Rugby Sevens tournament.
Hosted at Somersham RFC, the event is the brainchild of local businessman, naturist and rugby player Luke Atmerear
"I am delighted to have found a club who have embraced my idea so closely."
Mr Atmerear has campaigned for years to host an event such as this.
"I thought of the idea while on a naturist holiday on the Isle of White some four years ago, the majority of the clubs I spoke to wanted nothing to do with the idea, but with the support from the guys and girls at the East Anglia Naturist society we now have a exciting new event in our social calendar."
Chairman of Somersham RFC, Rory Underwear added,
"Like all small rugby clubs funding is tight and we feel that being the founding partner of naked rugby could be a great way to raise our profile and some much needed cash.
"Oh they are an open minded bunch, I'm sure their wives will be please not to have to wash the kit!"
The format of the tournament is 7-a-side mixed touch rugby followed by a traditional British BBQ and party.
"I feel I am only scratching the surface of the potential of naked rugby, not only will the naturists in East Anglia enjoy it, but I am sure there are a few lads and ladesses in the traditional rugby fraternity who might fancy a change."
The tournament is being held at the Somersham rugby club on the 26th June 2010 for more information please contact Luke Atmerear [email protected]