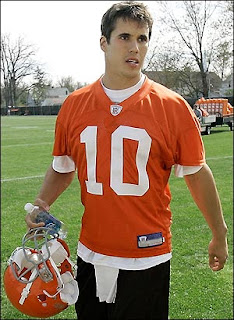 Mike Holmgren is wasting no time cleaning house up in Cleveland. Yesterday Holmgren cut onetime onetime Brown hopeful Derrick Anderson. Now there are several league sources that say Mike Holmgren is shopping out first round draft pick Brady Quinn.
Cleveland has already offered Quinn to several other teams according to NFL sources. Not only are the Browns looking to move Quinn but they are also perusing other options at quarterback as well. The Browns are open to acquiring a quarterback via trade, free agency or the draft if need be. This comes on the heels of team picking up long time Seattle backup Seneca Wallace.
The Cleveland Browns have needed an overhaul for a long time and it looks like once again Mike Holmgren is ready to work his magic.